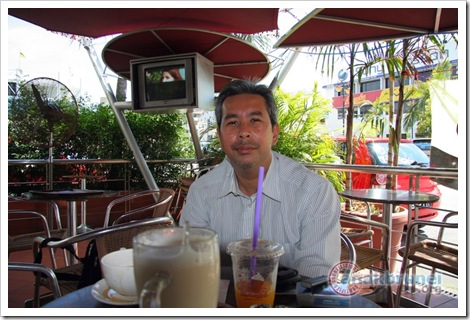 This here is my new friend whom I had the pleasure of meeting last week amid his busy schedule. Tengku Farith Rithauddeen, or TF for short, is Group CEO and Co-Founder of SKALI, an Internet Data Centre operator, and web applications and e-business consultancy which has set up a Lab in the BEDB's i-Center to transfer its technology and know-how to local bright sparks.
During our brief chat about what SKALI's plans are for their lab, TF outlined SKALI's technopreneurship program called SNAP, which stands for "SKALI Netpreneurs Acceleration Program", a program to facilitate the local ICT Industry by providing the necessary support structure.
I think this sort of mentorship program will do well to augment the efforts of BEDB and the i-Center in nurturing and growing our local bright sparks so that they can compete in the global market.
The other thing we spoke about was TF's book, Skali Lagi, which I've been listening to (yes, it comes in audio format which TF was kind enough to give me a CD of hehe) over the weekend. I was totally inspired by TF's candid reflections about his experiences, many of which mirror my own, about the last ten years or so. About the ups and downs of the dotcom boom, about how close he came to bankcruptcy, about how painful rejection and defeat can be, about how costly wrong decisions in technology can be.
I look forward to meeting TF again and sharing and learning more from our experiences. Hopefully, I will be inspired to gear up again and come out punching and give the IT industry another go!