Blue Eden has been around for quite some time but it has recently come under new management. The chef remains the same however, so we can be assured of the same tasty dishes which have been served all this while. Da missus and I decided to try out the new Blue Eden last weekend.
One of the most apparent changes was the al fresco seating area which was newly set up for smokers or those who wanted to dine under the stars. We however opted for the air-conditioned interior heheh. The interior is basically unchanged, which means I got the same "cramped" feeling. Perhaps there were a tad too many tables? or was it the arrangement of the tables? Either way, its probably worth looking at *hint hint* 🙂
The new owners, Mr & Mrs S recommended a few "signature" dishes for us to try, starting with the pineapple fried noodles which was Mrs S' favourite. Its a twist on the regular mee goreng as this one has pineapple added and uses a special sauce. The tanginess of the pineapple went well with the other savoury ingredients.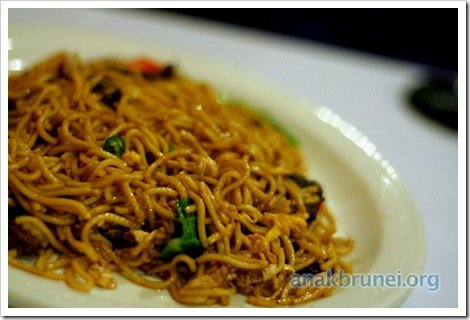 We also ordered the Blue Eden special barbecued chicken wings. These were absolutely delicious and it was easy to see why these were the first to run out every day! Nyummzzz! Then came the other very popular dish, fish and chips (which I forgot to photograph!). Nice succulent breaded dory fillets served with a side of chips. I was also keen to try to mango fish, another popular thai dish. The flavours of the mango fish were intense… sour, sweet, and salty all neatly balanced. Quite spicy too I might add!
The other two dishes we ordered were the butter prawns and the chili and basil chicken. The prawns were a good size and it was a generous helping. Lots of "uras" to enjoy with the battered prawns heheh. I'm a sucker for basil, so the chili and basil chicken, which was served with quite a bit of basil leaves did not disappoint!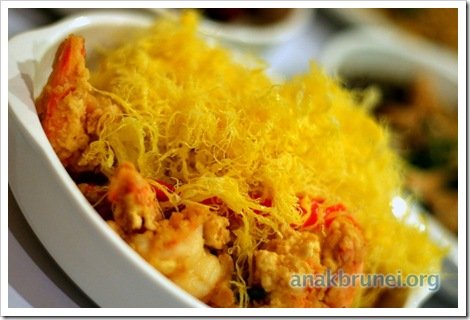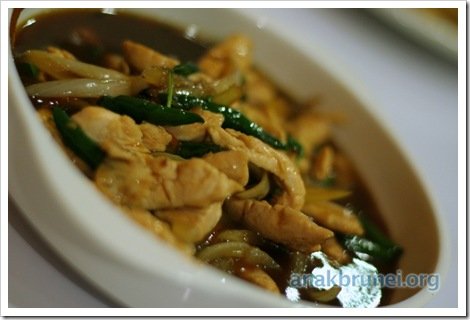 All the above was washed down with a humongous mug of iced green tea with lemon. Mind you, we ordered the regular size mugs! Those who've dined at Blue Eden will know that the drinks do not come in small serves! Oh, and one other dish which I forgot to photograph was the potato corned beef rice which Mr S had. I tried a little and it was pretty good!
Thank you Mr and Mrs S for hosting us! Looks like we'll be stopping by pretty soon to try more of the dishes! Heheh! More about Blue Eden here, here, and here.