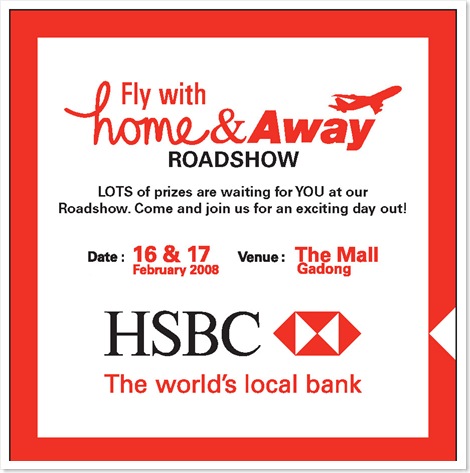 Starting from tomorrow until Sunday, HSBC is organising another big Roadshow filled with fun, games and prizes for its customers and non-customers alike. The Roadshow at The Mall in Gadong is themed "Home & Away", and is held in appreciation to all those who own and use an HSBC credit card, and at the same time also invites the non-cardholders to participate and join in the weekend's fun. The Home & Away is an HSBC Credit Card programme with over 50 local merchants and also operates in 40 countries worldwide.
Among the activities lined up during the 2-day Roadshow are interactive games such as "Shoot & Win", "Dip & Win" and "Last Man Standing". Participants will be able to play and win exciting prizes such as meal vouchers, travel vouchers and Reward points for all those who are already HSBC cardholders.
Customers who sign up for a new credit card during the Roadshow will be automatically credited with 500 Reward points upon approval, and these may be accumulated and redeemed for gifts from the Rewards Catalogue or Royal Skies Air Miles. The Roadshow games will start from 11am onwards and registration to participate will be on a first come, first serve basis.
There is also something for families with children, as those below 12 years old will be able to join in a life-sized "Snakes & Ladders" board game especially created for them by the HSBC team. The kids will have to find their way to the pot of prizes on the board and the winners who finish first in the game will be able to bring home cool prizes and goodies from HSBC.