Pics taken at The Economic Diversification Roundtable which was jointly organised by The Centre for Strategic and Policy Studies and Asia Inc Forum, partnered by HSBC, Total and Alcoa. The roundtable looked at key findings and recommendations from two consultants; Mr. Manu Bhaskaran (an old friend whom I last met at another high powered forum in Langkawi) from Centennial Asia Advisors Pte Ltd, Singapore and Dr. Mark Crosby, Melbourne Business School, Australia.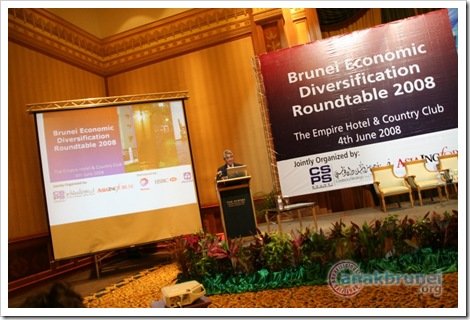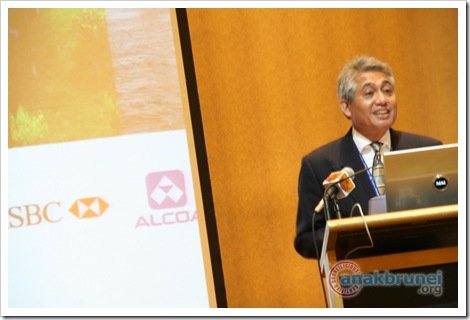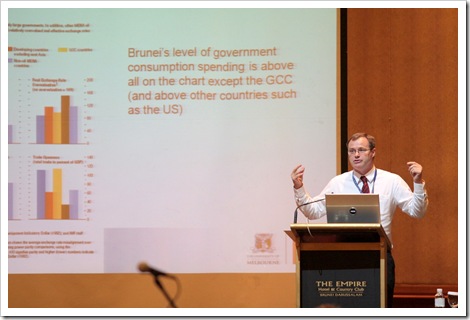 Dr Mark Cosby, one of the researchers presenting his findings.
Check out the statement in the chart… – pic courtesy of CSPS
The roundtable delved into the problems hampering Brunei's economic diversification progress. Both researchers had a consensus in their findings; highlighting the problem of mindsets, bureaucracy and public sector reform which include red tape, expertise proportion in the public sector, salaries and benefit reduction.
In a nutshell, both researchers called for more aggressive efforts to develop human capital to ensure a high percentage of the work force entering tertiary or professional fields and a developed entrepreneurship education to support diversification efforts. They also emphasized the importance of finding the balance between providing the necessary level of government service provision, while allowing for an enlarged private sector, both in terms of output produced and employment provided. These changes will also require a restructuring of Brunei's public sector to avoid duplication and give greater accountability to government departments and senior public servants.
The session was a closed-door one but my take home points from the roundtable were: Clarity of purpose, empowerment of decision makers, and an enabling legal framework are the key ingredients for the successful diversification of our economy. More about the roundtable here.