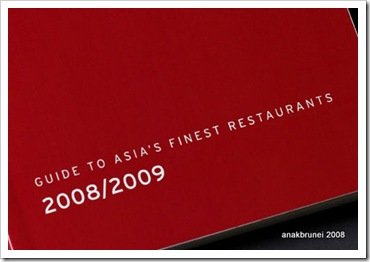 Earlier this year, I (together with Ms Turquoise & Roses and Mr BiG) was invited to be part of the initial jury for the Miele Guide, an exciting, new and truly unique Asia-regional restaurant guide. Yesterday saw the culmination of a long and rigorous voting and selection process with the official red carpet launching of the Miele Guide at the Grand Hyatt Singapore.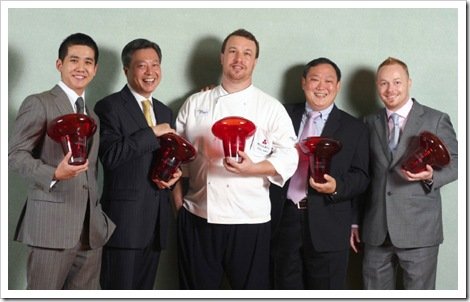 Asia's Top 5 restaurateurs (from left to right)
Timothy Goh (Les Amis), Michael Au (L'Atelier de Joel Robuchon), Chris Salans (Mozaic), Ignatius Chan (Iggy's) and Gunther Hubrechsen (Gunther's)
Iggy's, Singapore

L'Atelier de Joel Robuchon, Hong Kong, China

Les Amis, Singapore

Gunther's, Singapore

Mozaic, Bali, Indonesia

Robuchon a Galera, Macau, China

Garibaldi, Singapore

Yung Kee, Hong Kong, China

Hutong, Hong Kong, China

Antonio's, Tagaytay, The Philippines

Caprice, Hong Kong, China

Zuma, Hong Kong, China

L'Atelier de Joel Robuchon, Tokyo, Japan

Bukhara, New Delhi, India

Grissini, Hong Kong, China

Nobu, Hong Kong, China

M on the Bund, Shanghai, China

Fook Lam Moon, Hong Kong, China

Zanotti, Bangkok, Thailand

Kyubey, Tokyo, Japan
Taking the top honours this year is Iggy's, a four-year-old restaurant in Singapore that has consistently received rave reviews both locally and internationally since it opened. Iggy's has also been consistently ranked among the world's best restaurants by other media and surveys.
To determine the Top 20, The Miele Guide conducted four rigorous rounds of selection and judging. The selection process started with the creation of an initial shortlist of "Asia's best restaurants" by a panel of 84 of the most respected restaurant critics and food writers from over 16 countries in Asia.
Then, over 10 weeks, over 15,000 registered voters, from over 40 countries, cast over 75,000 votes for the restaurants they believe are Asia's best via an online survey, hosted at www.mieleguide.com. Each voter was allowed 10 votes, only 3 of which could be cast for restaurants in their own country (if they live in one of the 16 countries being evaluated in the 2008/2009 edition).
In addition, a group of 1,500 foodies, F&B professionals and journalists were invited to form a special jury and cast votes for their picks, separately from the public. The results of these two votes were combined with slightly more weight given to the public vote.
Over 2,000 restaurants received votes in these two rounds. From this, The Miele Guide selected the top 320 ranked restaurants for inclusion in the 2008/2009 edition. To further evaluate and confirm the rankings of Asia's Top 20, incognito tasting at the top 25 ranked restaurants were conducted by The Miele Guide team, with help from contributors in selected countries.
This year, restaurants in 16 Asian countries were evaluated—Brunei, Cambodia, China (including Hong Kong and Macau), India, Indonesia, Japan, Korea, Laos, Malaysia, Myanmar, Philippines, Singapore, Sri Lanka, Taiwan, Thailand and Vietnam.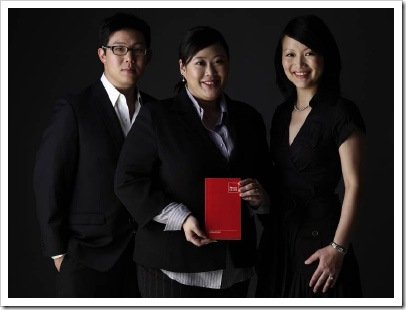 The Miele Guide's Team (from left to right)
Aun Koh, Pauline Ooi and Tan Su-Lyn
"We expect that this list will be controversial," says Aun Koh, Director of Ate Media. "Like any list, we expect people to dispute the rankings and to criticize us. But the more people talk about our Top 20 list, the better. The overarching goal of The Miele Guide is to help the restaurant industry in Asia grow. The more people talk about and debate which restaurants and chefs they think are Asia's best, the closer we are to achieving our objectives of helping our most talented chefs and restaurateurs gain more recognition, both within Asia and internationally. Obviously, we want The Miele Guide to become established as the most credible, independent and respected system through which restaurants are evaluated across Asia. But a large percentage of our results are based on polling, both through a jury and the public. If people are unhappy with the results this year, we urge them to vote in the following years."