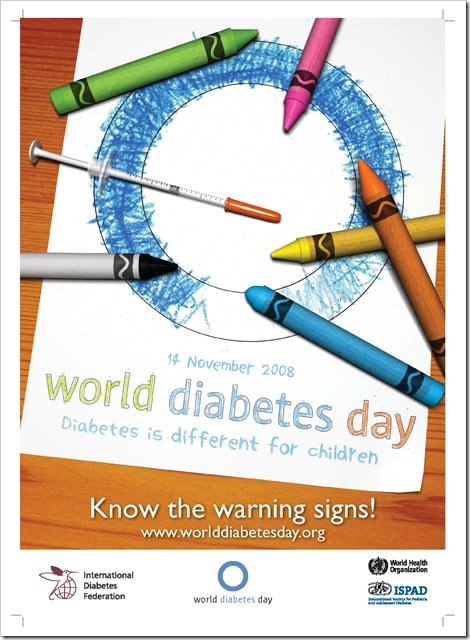 World Diabetes Day was introduced by the International Diabetes Federation (IDF) and the World Health Organization (WHO) in 1991, in response to concern over the escalating incidence of diabetes around the world. World Diabetes Day takes place on 14 November every year and is celebrated worldwide. It brings together millions of people in over 160 countries to raise awareness of diabetes, including children and adults affected by diabetes, healthcare professionals, healthcare decision-makers and the media. World Diabetes Day unites the global diabetes community to produce a powerful voice for diabetes awareness.
While many events take place on or around the day itself, a themed campaign runs throughout the year. The theme for World Diabetes Day 2008 is Diabetes in Children and Adolescents. Some of the campaign aims include:
Raising awareness of the warning signs of diabetes

Promotion of healthy lifestyles to help prevent type 2 diabetes in children
Diabetes is a common condition and its frequency is dramatically rising all over the world
Today, there are more than 250 million people with diabetes worldwide. Within 20 years, this number is expected to grow to 380 million.
In developing countries the number of people with diabetes will increase by 150% in the next 25 years.
The global increase in diabetes will occur because of population ageing and growth, and because of increasing trends towards obesity, unhealthy diets and sedentary lifestyles.
In developed countries most people with diabetes are above the age of retirement, whereas in developing countries those most frequently affected are aged between 35 and 64.
Diabetes has become one of the major causes of premature illness and death in most countries, mainly through the increased risk of cardiovascular disease (CVD). Cardiovascular disease is responsible for between 50% and 80% of deaths in people with diabetes. Diabetes is a leading cause of blindness, amputation and kidney failure. These complications account for much of the social and financial burden of diabetes.