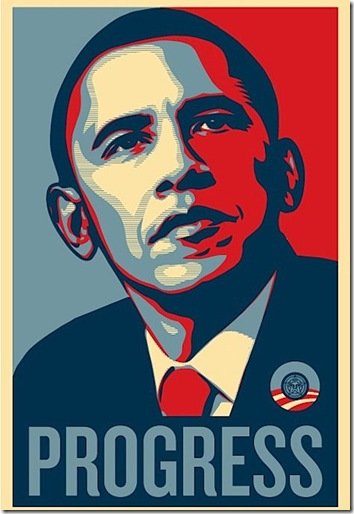 A message from 24-7 Roadside Assist:
"We at 24-7 Roadside Assist would like to apologise to all our callers. We are currently facing difficulties at our Call Centre due to the Tropical Storm last night.
All our Phones lines are down thus we are unable to receive calls. However, we have prepared 2 mobile lines which are fully functional 24 hours to attend to your calls.
If you are a 24-7 Roadside Assist Customer and have a vehicle broken down, you can reach us for assistance at +673-8733 247 or +673-8773 247.
Any inconvenience caused is deeply regretted. Only Limited Services are available until further notice. Thank you for your kind understanding."

Pics taken last night along Jalan Gadong. It was raining cats and dogs last night, but yours truly decided to go out on a quick errand… Baaaad mistake! My "adventure" began when I was on my way home from Jerudong. Was caught in a ridiculous jam along Jalan Jerudong due to flash flooding.
Waited for about an hour or so before deciding to turn back and try my luck on the highway. Highway was ok but as soon as I got onto Jln Tungku, there were pockets of flooding all along the road as well. Thankfully, I made it through without much drama and got onto the freeway heading towards Jalan Gadong, Beribi.
Suasana sungguh meriah! All kinds of jam came to mind.. strawberry, plum, lemon, orange! It puts the daily rush hour to shame! All cars were literally parked on the road waiting for the flood water to recede….
Finally after another hour or so, traffic started moving again, thanks to the traffic cops on duty, as Maurina agrees. All in all, what should have been a quick 30 minute trip became a 3 hour adventure!
I didn't remember to take pics until the last leg of my "adventure" but here they are. More pics here and here.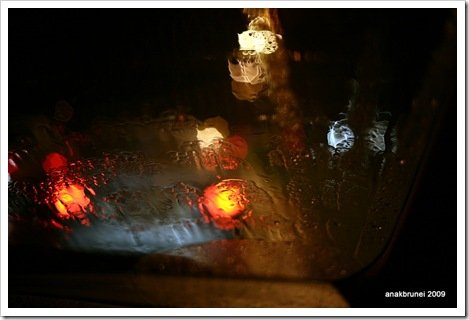 Rain…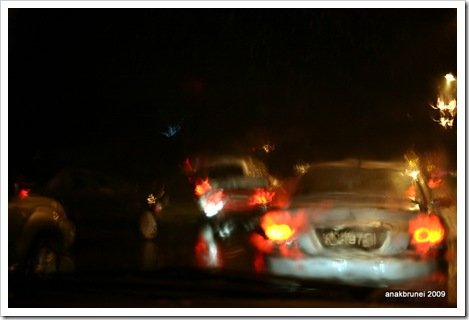 More rain…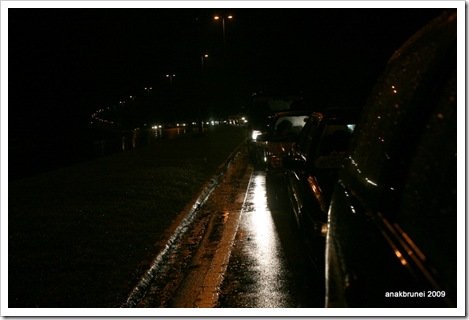 Tailback went as far as the eye could see…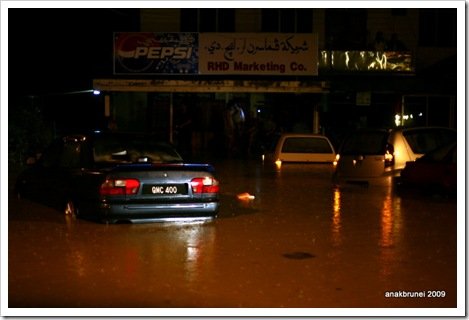 These cars didnt quite make it….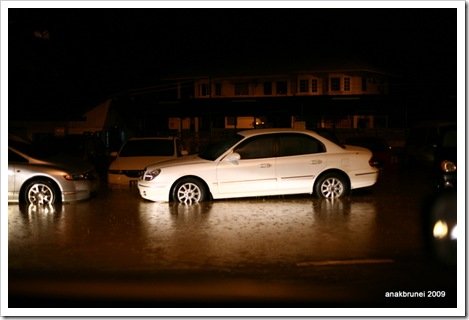 Reflection…