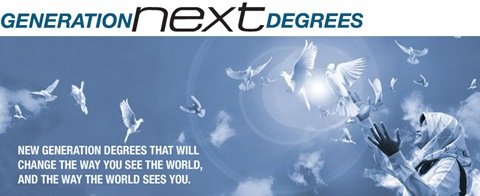 UBD will be organising an Open Day themed "Opportunities to Transform Your Life" from 12 FEB @ 2pm until 15 FEB 2009 at the MAIN HALL, CHANCELLOR HALL UBD. Members of the public are welcome to visit us and find out more what is happening during the event.
Highlights of the event:
Introduction to the GenerationNEXT degree programmes

NEW Programmes Offered by SHBIE Graduate School, UBD

New Postgraduate Programmes in UBD

New Admission System (HECAS) – from Higher Education Department

UBD Alumni (Gild Siswazah)

UBD Student's Association/Clubs

UBD Campus Tour

Student's Live Performance
Please Visit Us and lets make "UBD Open Day" a Memorable Event. More information on the GenerationNEXT degree programmes can be found at http://www.ubd.edu.bn.