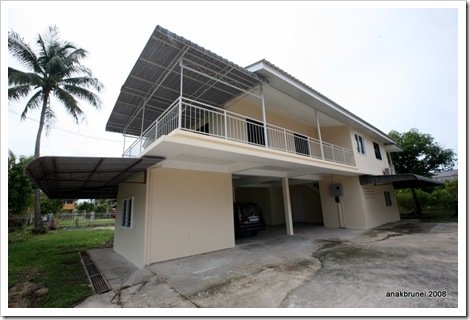 If you happen to be looking for accommodation in KB, this newly refurbished 5b/3bth home is now available for rent. Located 5 minutes from KB town, its perfect for the family! Click here for more pics or call 8757130 for more details.

Over the last couple of years, I've been asked this question many times by several people, "With a full time job and various other commitments, how do you find the time to blog?"
Well, just like any other hobby or passion like golf, badminton, or even sky-diving, it does take up some time lah heheh! Strangely enough though, I don't often hear people asking, "How do you find time to play golf?"
Here's a little peek into my blogging workflow which will show how little time it actually takes to put together a post. There are two main tools I use for my trade, and both are available online as free downloads.
The first tool is what I use to prep my pics for posting. I've been using Google's Picasa since it first became available few years ago, and now in version 3, it has become quite a rich and functional picture management tool. With Picasa, I import the pics from my CF card, crop/resize them, then export them into a standard image size i.e. 450px wide. This makes it easy to later just insert into my posts.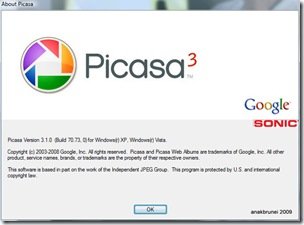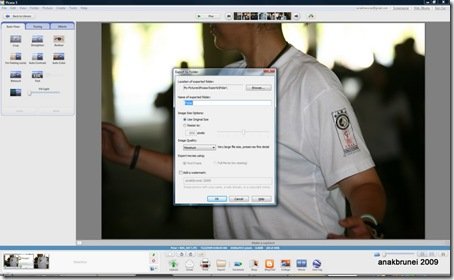 Importing pics and cropping/resizing on Picasa is a snap!
The second tool I use is something that has actually prevented me from moving over to a Mac. Its Windows Live Writer, "a desktop application that makes it easy to publish rich content to your blog. It's easy to publish to most major blog services, including Windows Live Spaces, SharePoint, WordPress, Blogger and many others. Create a compelling blog, with your personal photos and videos, maps, tags and lots of other cool content, all in a snap. Preview before you post. Compose your entries offline, publish them later, when you get back online."
The fact that Windows Live Writer allows me to compose offline is a BIG plus. This means I don't have to compose using WordPress' online posting. I can post without even having to fire up my browser and accessing the actual site. Believe me this helps lots especially when the internet connection goes wonky. Oh, and you know those fancy photographic borders and drop shadows you see on every pic I post? Its AUTOMATIC on Live Writer 🙂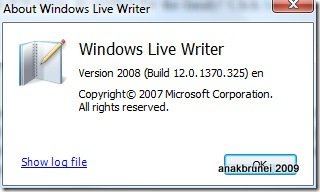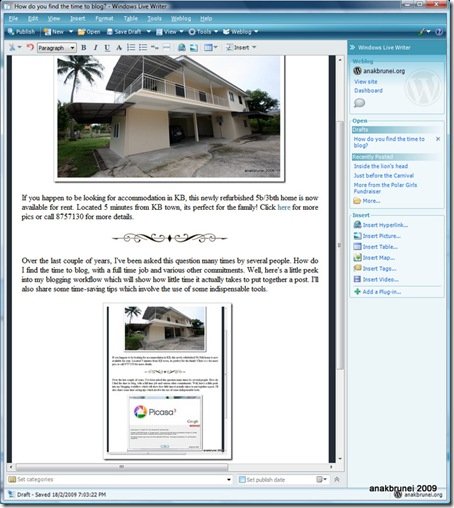 Inserting the pics into Live Writer is a matter of dragging and dropping
Thats it really. Using these two excellent tools, assembling a blog post will take me no more than 10 minutes! The real killer is actually coming up with an idea for a post and then going out and taking the pics, and then writing the text or captions to go with the pics.
One neat trick I use quite often is to publish stuff ahead of time. Which means the post will only appear on the date that I set it to. This post for instance, was written last night, but I set the publish date to this morning.
Adding the extra stuff later is also another method of making sure that at least my pics are up before anything else. Once the pics are up, I can always come back and make the necessary edits and add the text whenever I have a spare moment or whenever an idea comes to mind.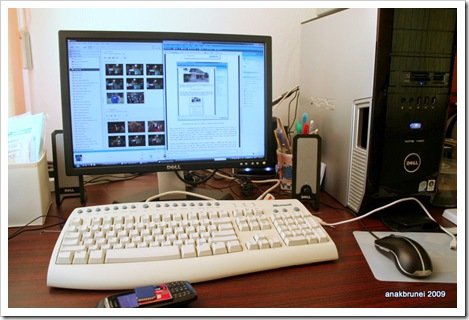 Having a powerful rig also helps save time of course!
So, for those who think blogging is a painstaking and time-consuming affair, it ain't necessarily so. It just requires one to work smart and use good tools. Here's a good response to the same question from Rohit Bhargava.