Searching for that Lexus. A woman was killed in a hit-and-run case yesterday. According to the Royal Brunei Police Force, the accident took place along the Muara/Tutong Expressway near the Nakhoda Ragam Vocational School in Lambak Kanan around 9.15am. The police said the 47-year-old New Zealand national was cycling along the expressway heading towards the direction of Jerudong when the car hit her from behind.
The injured woman was immediately rushed to the hospital in critical condition, but she succumbed to her injuries later in the evening. The police are looking for a red or maroon coloured Toyota Lexus which is suspected of hitting the woman.
Anyone who had witnessed the accident has been urged to contact the nearest police station or the Berakas Police Station at 2330410/12/13 ext 20 to give information and assist in the investigation. [Source: The Brunei Times]

As a result of the recent heavy rains and flood, the drain next to my home collapsed, causing many sleepless nights for fear of further soil erosion from beneath my home. To make matters worse, the constant rains caused some soil erosion at the back of the house as well.
Throughout this period, the NDC, Fire and Rescue Department, and JKR were extremely helpful and responsive. Teams of people came by to put up canvas sheets in an effort to prevent further erosion, and at the same time, folks from JKR and Survey department came by to assess the damage.
Understandably, it took some time for a permanent remedy to be implemented, but I am really chuffed to say that after the announcement by His Majesty on the special budget to speed up repairs to damage caused by the landslides and floods, everything went into hyper-drive. For that, my family and I would like to express our sincere gratitude to the government of His Majesty.
This series of photos is my personal tribute to the efforts of His Majesty's government for mitigate the damage caused, and reduce the sufferings of the citizens and residents of this blessed nation of ours, Brunei Darussalam.
The collapsed drain which services the whole housing area in which I live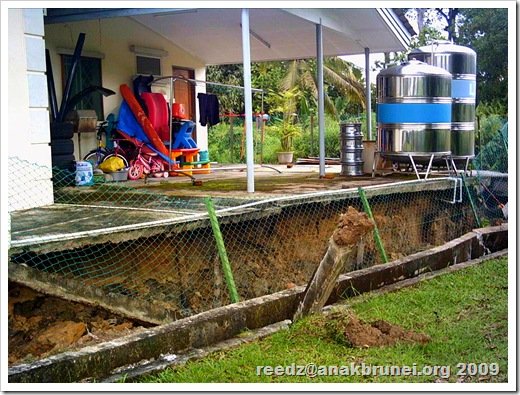 The collapse was partly caused by the beams giving way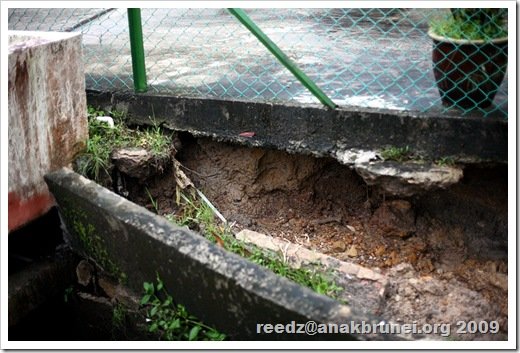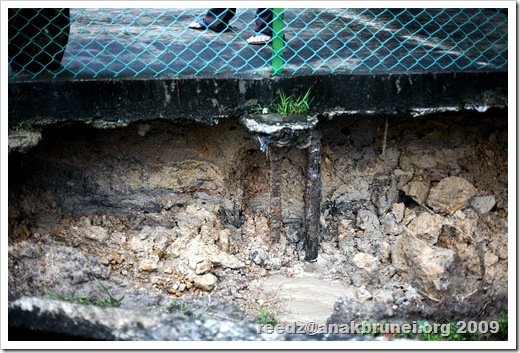 Constant rains meant the flowing water kept eroding the soil under my house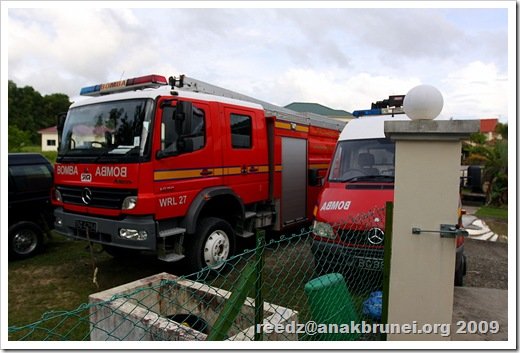 Fire & Rescue boyz popped by…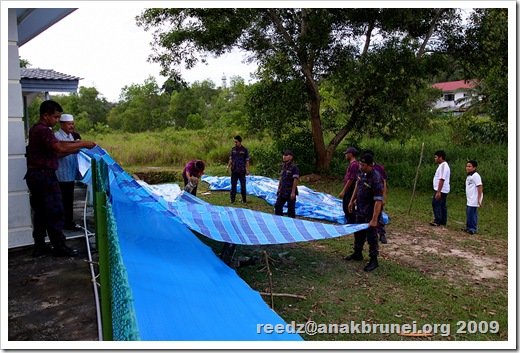 … to put up canvas sheets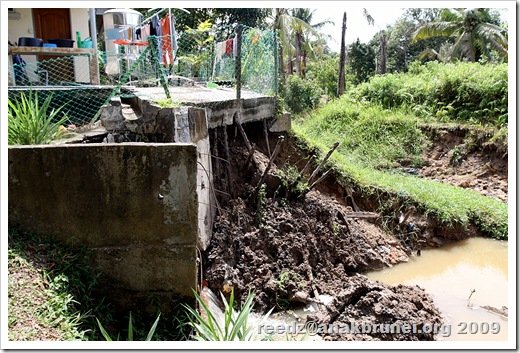 The drain discharges into a stream behind my house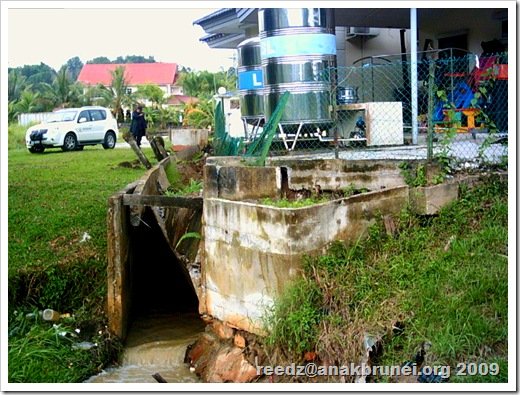 The retaining wall which I built to prevent erosion from the drain discharge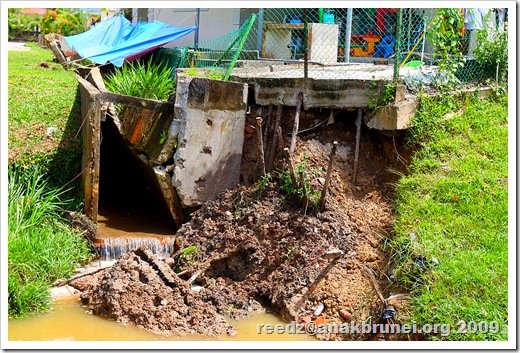 After the constant rainfall, even the retaining wall collapsed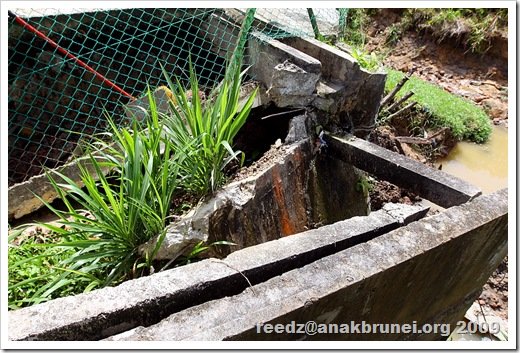 Baaaad shaaape 🙁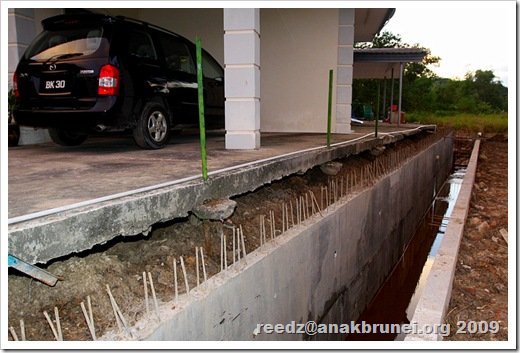 After the announcement, brand new drain!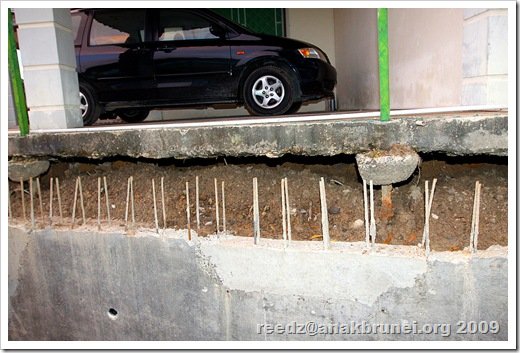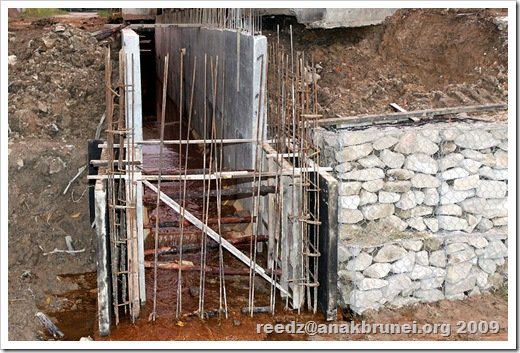 Definitely a better design!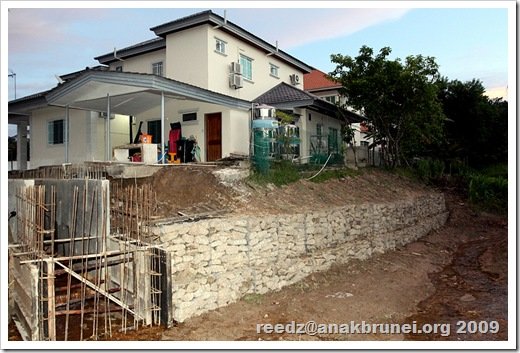 Gabions were set up at the back of the house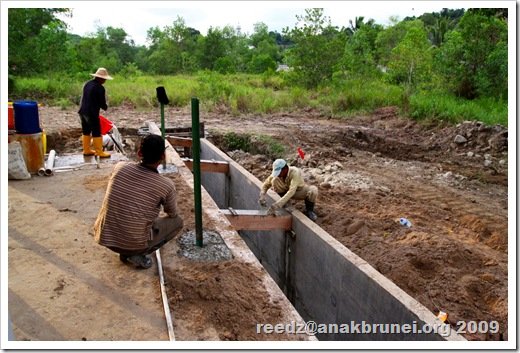 Beams for the drain. Bigger and stronger this time I hope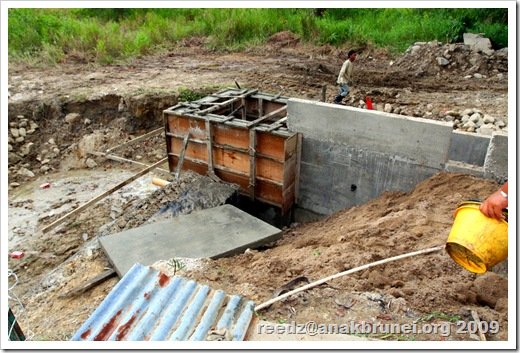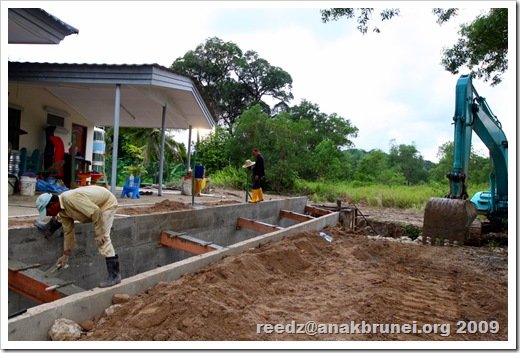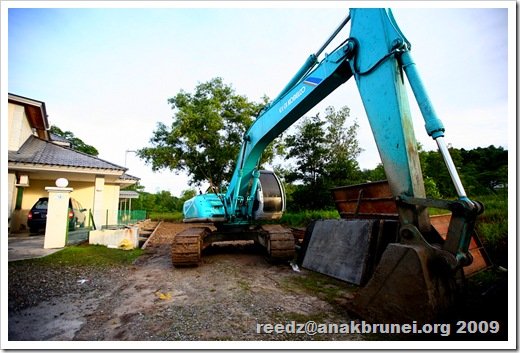 Transformer!