ELECTRONIC SYSTEM FOR TRAVEL AUTHORIZATION (ESTA™)
ADVISORY STATEMENT
April 28, 2009
As previously announced, as of January 12, 2009, all travelers under the Visa Waiver Program (VWP) must have obtained authorization through the Electronic System for Travel Authorization (ESTA™) prior to initiating travel to the United States. This authorization may be obtained online through a free Internet application administered by the Department of Homeland Security (DHS) through a U.S. Government Web site.

DHS does not charge VWP travelers a fee for completion of an ESTA™ application. Eligible visitors seeking to travel to the United States under the VWP may apply for travel authorization via the ESTA™ Web site at https://esta.cbp.dhs.gov.

Ambassador Todd and the US Embassy-Brunei would like Brunei VWP travelers to be aware that unauthorized third-parties have established Web sites, including ones that specifically target Bruneians. These sites charge visitors seeking to travel to the United States under the VWP for information about ESTA™ and for submitting ESTA™ applications to DHS on behalf of the traveler. These businesses and Web sites are not endorsed by, associated with, or affiliated in any way with DHS or the United States Government. Again, the United States Government does not charge a fee to obtain information about, apply for, or obtain a travel authorization through the ESTA™Web site. Use of a private service to apply for travel authorization via ESTA™ will not expedite the granting of approval.

The ESTA™ application Web site is available in 16 languages and includes a help section that provides additional information for VWP travelers to guide them through the application process. Additional information about ESTA™ may be found at http://www.cbp.gov/esta. Additional visa and travel information can be found on the Embassy website at http://brunei.usembassy.gov/.

Click image for full size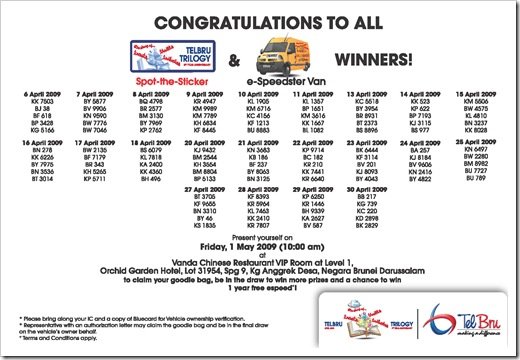 Please note the change of venue to VANDA Restaurant at
Orchid Garden Hotel and not Ministry of Communications
as previously advertised

Finally, a gym down the road from my house! Local fitness guru Harun of Harun's Gym is the business brains behind this new venture called TruFitness. Spanning SIX shophouses and THREE storeys, this is by far the biggest fitness center I have seen so far!
For those who know Harun, they will know that he is most associated with the local hard-core body-building scene. TruFitness however, is Harun's attempt to penetrate more into the fitness market rather than hardcore body building.
On the ground floor alone, there are over a hundred pieces of cardio equipment ranging from treadmills to nautilius machines to rowers. On the first floor, you'll find a diverse range of resistance training equipment and on the top floor is a huge studio for aerobics or martial arts training.
What I liked about the equipment was that its all top of the range from manufacturers like Life Fitness, Cybex, and Nautilus.
The center is not quite ready but its open for business already, with quite a number of members signed up including your's truly. I managed to get my "Golden" Membership number too heheh! If you're keen to check it out, pls give Harun a call on 8188044. See ya there!