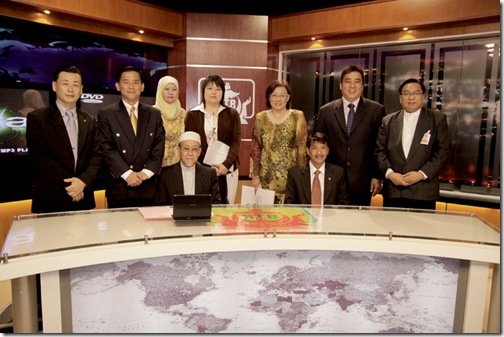 Radio Television Brunei (RTB) in its vision as a Nation voice & National's choice aims to create a well informed Brunei society through effective communication which is based on the national philosophy – Malay Islamic Monarchy.

RTB News is making significant changes to the way news is presented and covered.

A new look for RTB primetime news, Berita Nasional and News at Ten were introduced on the 2nd May 2009. It aims to provide a better service with attractive news coverage for the Brunei audience and also to enhance RTB's role as the government's media and main channel of information.

Along with the changes to on-screen presentation, the revamp also includes new news format, new backdrop set, new graphics, new theme tune, new weather focus presentation and a top-to-bottom review of the content of the news items.

With the mindset of Public Private Partnership, RTB NewsCentre has engaged local companies together in implementing the revamp.

CityNeon Displays and Construction Sdn. Bhd. for sponsoring News backdrop set.

Aifa Sdn. Bhd. for sponsoring Flatscreen Tv

Weshine Sdn. Bhd. for sponsoring Computer Laptop

This collaboration reflects the existence of a manifestation of understanding and a close networking of cooperation between the government and the private sector in together playing a role towards implementing government projects successfully.

Long overdue pics from the prize presentation ceremony for the winners of the TelBru Trilogy events which included Spot the Sticker and Photo Hunt. The event was held at the Orchid Garden Hotel.
More than 170 winners each received their goodie bags through the month-long participation and other premium TelBru prizes.
The grand prize of one-year free eSpeed was won by Sallehie, Dayang Aini Hj Awang Damit and Siti Nurfadhillah Hj Abd Hamid in a draw that brought together all .
The prizes were presented by the guest of honour, Hajah Norliha Abu Bakar, the General Manager of Telbru Corporate Affairs.