I found myself nodding my head in agreement when I read this articulate post in Have Your Say about visiting hours in our local hospitals.
Is RIPAS Hospital a Zoo or the Gadong Mall? – By Depressed Patient

I became deeply depressed when I was admitted on 2nd April. But my condition got worse right up to the time I was discharged on 15th April 2009.

No one is keen to be hospitalized. But in RIPAS you would be doubly so. Why? Because of the unbearable NOISE in the ward. The public here generally neglect to observe the visiting hour rule and is turning the hospital into a zoo or The Mall Gadong. Why I say this? Because it is a fact and there have been so many complaints. Minister, please take note.

My admission in the hospital should have given me a quiet moment to relax my mind but it turned to be otherwise. Nurses tried a couple times to tell the visitors, who should not have been there in the first place, to be quieter but people ignored them. Why not CEO RIPAS really be strict and impose the visiting time rules like in other countries? I know that these rules are already posted on wall in each ward. But who cares? It does not make a difference. NO. None at all! So I think it is time to post professional security guards.

Still visitors continue to laugh at all hours and coming into the ward any time like in a coffee shop ignoring the patient's condition in the ward. They just don't care. They just care only about their family and themselves.

But it is never too late. Please think, people are admitted not because they want to be admitted. They need to relax and recover in order to be cured. People here just know how to say bad things and become rude and violent if they are told about the rules. So they just ignore the rules. And they tend to be arrogant and aggressive. But the hospital staff does their work for your country and for the patient and cannot expect to do battle with this rude and ignorant lot who come in at all hours of the day and night. Where is the discipline? It should be strictly imposed. And I know this post will be criticized by some people.

BUT if they know how I felt and suffered they would understand. And I would say to this inconsiderate people, behave and obey the rules and give some thought to others. So I don't care about the criticism. I tell the truth and what patients around me also said.
One particular experience came to mind immediately which happened some months ago when I took daughter number 1 to the emergency room and she was put in the day ward near A&E for observation. There was a patient in the same ward who had an entire entourage of family members with her, from her children and their spouses to her grand-children, and maybe even her great grand-children.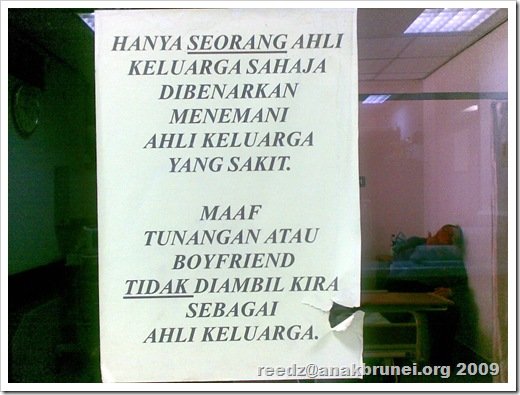 Galpren bulih tah tu?
For those who've been to the day-ward, you'll know that its quite small and cramped with three beds only. This group was hogging the entire ward and literally having a picnic. They were chit-chatting at the top of their voices while the kids were running around wreaking havoc. Just as we thought the place was getting really packed, MORE relatives walked in complete with CRYING INFANT! This family definitely scores A1 for filial piety. Thats all I can say.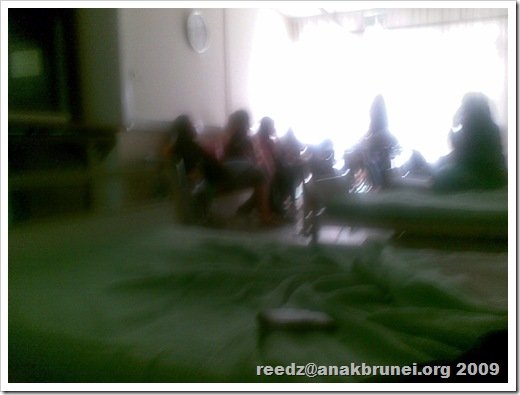 Picnic time!
It seems our people need to learn to have a bit more empathy for other patients in the same ward as their loved ones. Oh, and we need to be slightly more attentive to signs posted on the walls and doors of hospital wards. They're there for a reason.