Last weekend, AV Electronics launched Drobo, the first fully automated storage robot from Data Robotics Inc. It is designed to ensure that data is always protected, storage capacity is unlimited and it is exceptionally easy to expand.
Exclusively available only at AV Electronics, Drobo limits the amount of human interaction required and includes some of the most advanced automated features available, including self-monitoring, self-healing and an easy-to-understand visual status and alert panel. With the introduction of Drobo, Data Robotics frees consumers and small businesses from the time consuming chore of storage management, enabling them to focus more of their time on personal or professional interests.
Today, we tend to collect a lot of digital media files from music, photos and movies. With movies now available in HD 1080p and 12 Megapixel digital cameras becoming the norm, finding enough HD space to store them can get tough. Backing them up and being able to depend on the backup is even harder.
Meet your new primary storage, the second generation of the safe, expandable Drobo™ storage robot. It's so simple anyone can use it, yet powerful enough for business. Drobo plugs into Mac, PC and Linux systems for redundant data protection without the complexities of RAID.
Dynamically expand storage any time; Drobo holds up to 16TB in four drive bays using any combination of 3.5" SATA drives. It comes with FireWire 800 and USB 2.0, so you get the data protection you need with the speed and interface you want. For more details and pricing info, pls call AV Electronics on 2237650 or better still visit their showroom in Kiulap!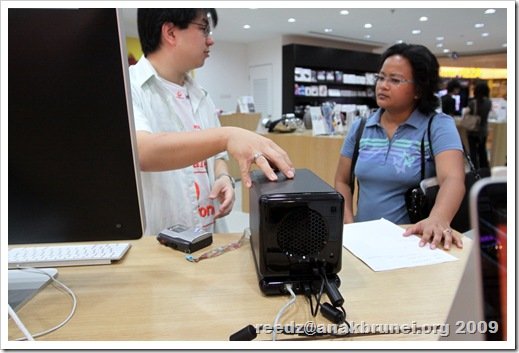 "I'd like to think of Drobo as our little robotic friend." says Hj Yusoff Soffian Hj Mohd Freddie, Marketing Manager for AV Electronics. "It even alerts you when your HD capacity is almost full." continued Soffian. "If your computer breaks down, you can always buy a new one. Should you lose 20,000 photos you stored on that computer, you cannot go back in time and take those photos again. People always forget how important backing up data is until the inevitable happens."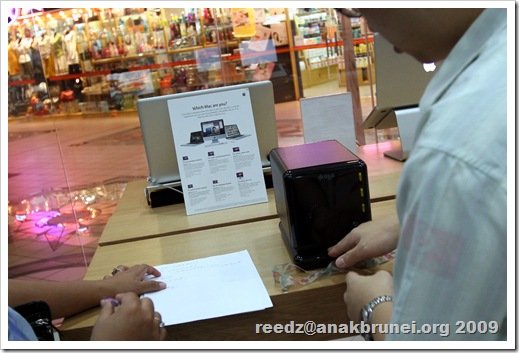 Redundant protection, no headaches. Drobo provides the redundant protection of much more expensive storage, in a format you don't have to configure or manage. We call this BeyondRAID™ technology. You'll call it peace of mind.
Incomparable expandability. With Drobo, buy just the storage you need now and change it as your data grows. Mix n' match drive brands, capacities and speeds. Replace your smallest drive with a larger one and immediately use the new capacity in a matter of seconds, not hours! Hot swap up to 16TB on a single volume as drive sizes grow larger. Drobo creates one large storage pool. Dive in and eliminate the need for multiple external storage drives and devices.
Drobo connects to Windows, Mac, and Linux* systems and supports NTFS, HFS Plus, EXT3, and FAT32 file formats. Everyone can take advantage of simple, powerful, complete Drobo data protection.