And the winners for today, 2nd September 2009 are:
'Faizal Alauddin
and

Dannie Basrah
CONGRATULATIONS and enjoy your sungkai
at the Rizqun Coffeehouse!

An urgent note from a friend. Pls help if you can:
Hello friends

I am appealing on behalf of RIPAS for blood platelets donors to come forward.  As of this afternoon (1st Sept @ 3 pm), they have 2 patients urgently in need.  One is a teenage boy suffering from leukaemia whose red blood platelet count is down to 8 (normal range I was told is between 250 to 450) and a man who suffered a traffic accident yesterday but could not be operated on until donors are found.  With 2 donors this afternoon, and a further 2 expected, the doctors hope to be able to perform the operation tonight.

Please pass the word around and in view of the fasting month, the blood bank is also open from 9 to 11 pm nightly – platelets donation is done at the Oncology Dept and takes around 1.5 hours.  If you like to know more or if you or any friends would like to donate, please look for Ken at the Blood Bank who will explain the procedure clearly to you.  Shanty, the oncology nurse will also clear up any doubts and fears you may have.

Today's post is brought to you by AB's guest foodie blogger is SL. Great job bro!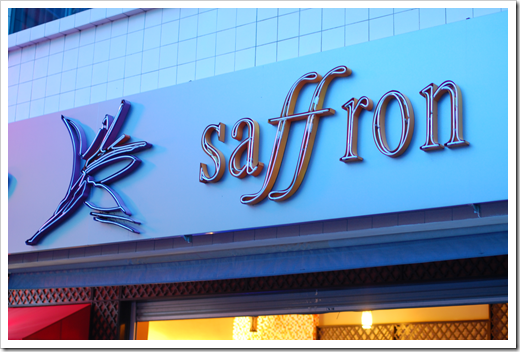 The thing that struck me the most about Sungkai Buffet at Saffron was how relaxing and calm the whole experience turned out to be. Having all the food on the menu served to your table definitely beat jostling and queuing up in long lines at other joints.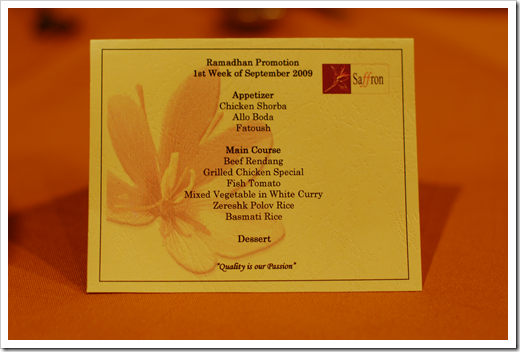 The buffet menu offers a fusion of Iranian, Indian and Malay Food, balanced perfectly for local taste
Saffron Sungkai Buffet comprises of appetizer, main course and of course desserts. For starter, the soup was refreshingly light and the green salad has the right tinge of dressing. Not a wide variety on that, but why overstuff yourself with appetizer, right?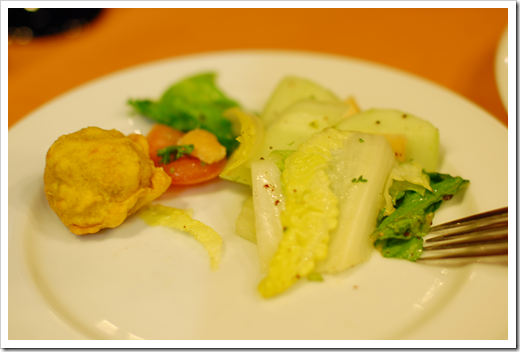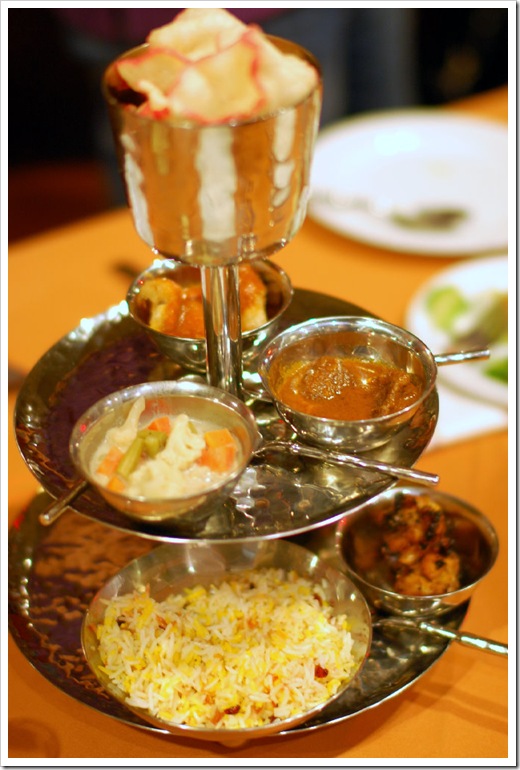 Main course is served in small portions, but with unlimited refill to fulfill your gastronomic needs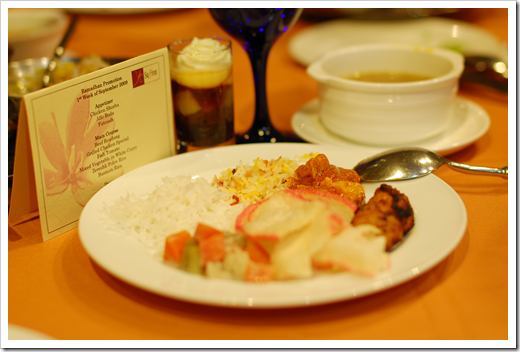 The main course has a bit of everything, serving selections from Malay, Iranian and Indian food. The Zereshk rice, an Iranian specialty, was especially tasty with a hint of raisins. Even the Basmati rice, which can easily passed as normal white rice, offers a different sensation to your taste bud as you can almost savor each grain individually. It's dry without being coarse and a perfect complement to other main dishes.
Moving on to Fish Tomato, it was very rich in taste and you can really appreciate the freshness of it. With tangy tomato gravy, the fish meat was served in cubes and it was just right for one mouthful together with the Basmati Rice.
The Mixed Vege in White Curry was actually quite bland in taste, but surprisingly it worked very well in tandem with the other dishes. Saffron shows that curry doesn't have to over-packed with spices, as the light vege helped to accentuate the taste of other dishes, especially the Grilled Chicken Special.
The Grilled Chicken Special deserves a merit mention as the most delicious item on the Menu. Essentially Tandoori Chicken, the chicken was marinated and grilled lightly, keeping a nice layer of reddish texture. It has strong taste, while keeping the juiciness of the chicken intact.
(I can't take beef, so didn't get to taste it. Sorry)
The were also a wide variety of desserts on offer, ranging from kuihs to cakes, ice kacang to puddings and the ever-interesting chocolate fondue. I was quite full so I manage skipped the chocolate fondue to demonstrate my little strand of 'self restraint'. I had the sago pudding instead, and it was a great choice. Not too sweet nor too bland, it has the right blend of sago-and-pudding ratio.
Overall, the Saffron Sungkai Buffet was a nice experience. Owing much to the charming interior deco that sets up relaxed ambience, it gave me the right balance for a calm and fulfilling meal, coupled with nice mix of fusion food on serve.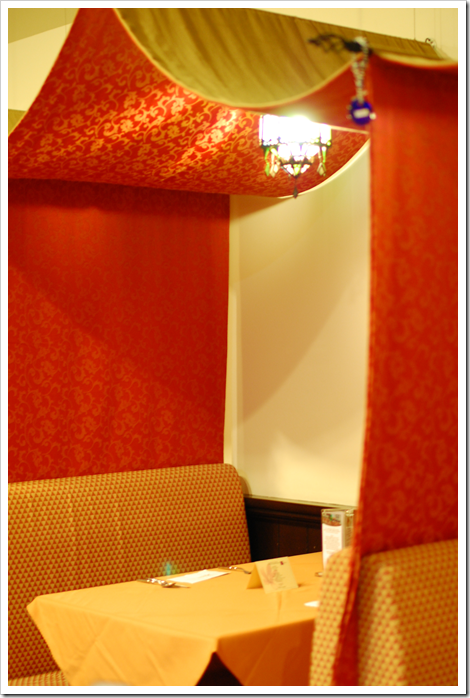 A spacious 'chamber' comfortably seats 4-6 pax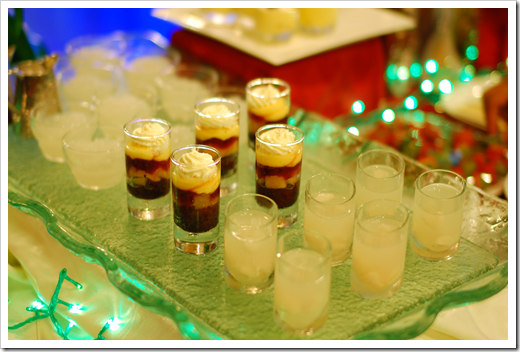 Sweet desserts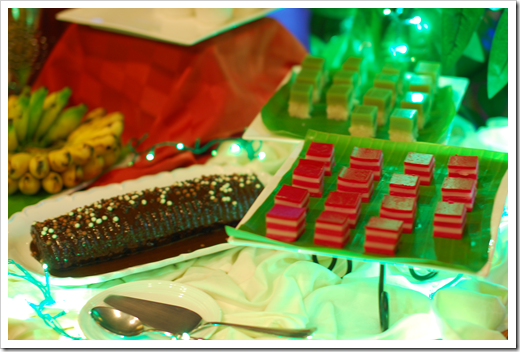 A variety of local kuihs and chocolate cake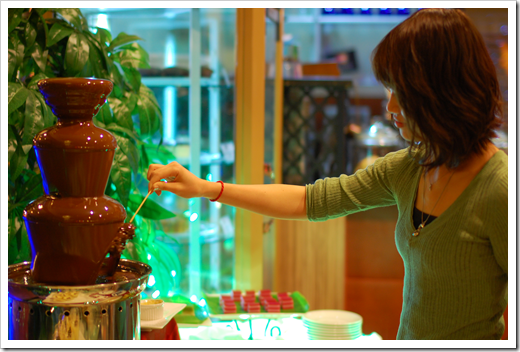 Kid-magnet: The chocolate Fondue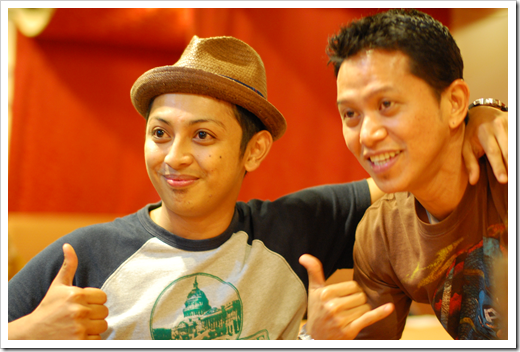 Even Kurapak and co gave the thumbs-up
Note: $10 per pax, children under 5 years old eat for free
Menu changes every week during month of Ramadhan