And the winners for today, 4th September 2009 are: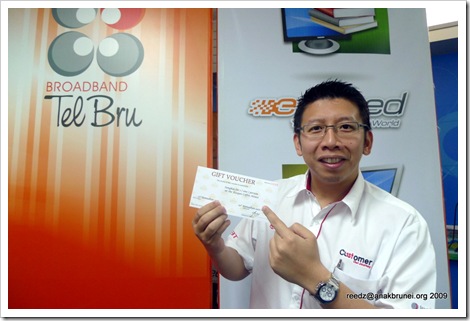 Erdie Hassan
and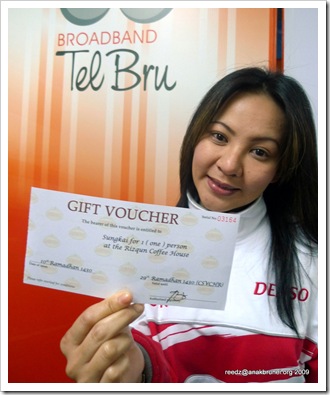 Mejot Izzah
CONGRATULATIONS and enjoy your sungkai
at the Rizqun Coffeehouse!

Here's the scenario: Imagine a 5 year old kid walks into a candy shop, and was told he can HAVE EVERYTHING he sees…
Now imagine you, after fasting the whole day, walks into a Sungkai Buffet restaurant, sees over 10 different invigorating appetizers, 30 different hearty main dishes, and 15 different salivating desserts, and was told you can HAVE EVERYTHING you see…
Welcome to Cheezbox's Sungkai Buffet!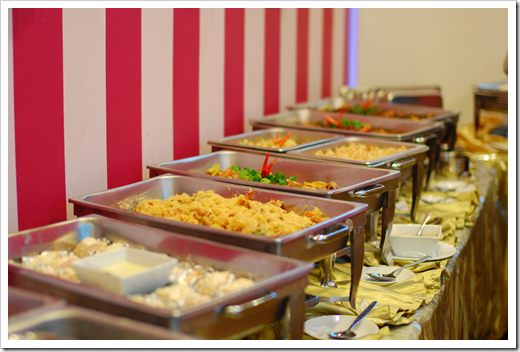 10% of the food on display…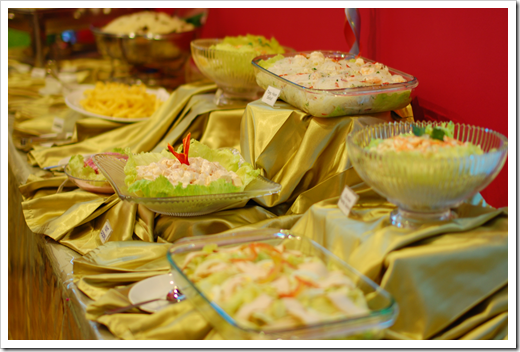 Yet only another 10%…you get the drift. The varieties are so varied and unique, I'll be hard pressed to include the whole menu in pictures.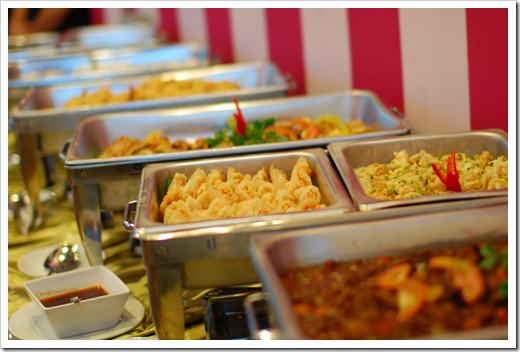 …but no harm trying…here's another 10%…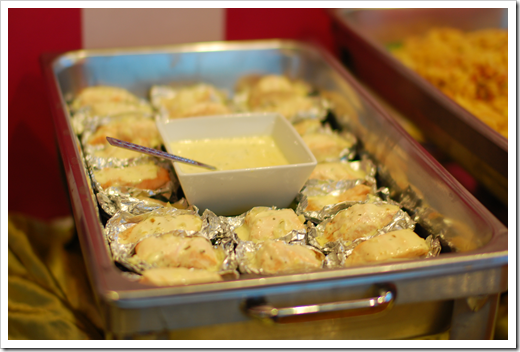 The very delicious Poached Salmon with Apple Taragon Sauce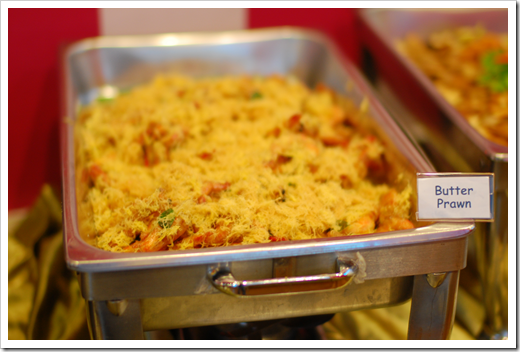 The buttery aroma will linger in your mouth…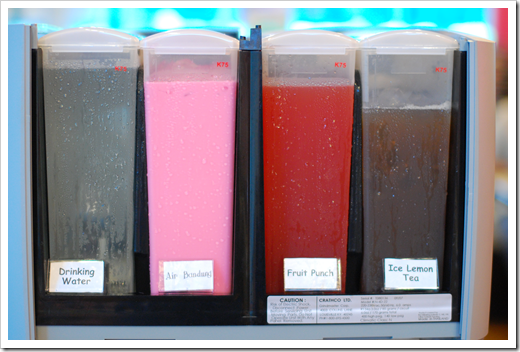 You will never get thirsty again at Cheezbox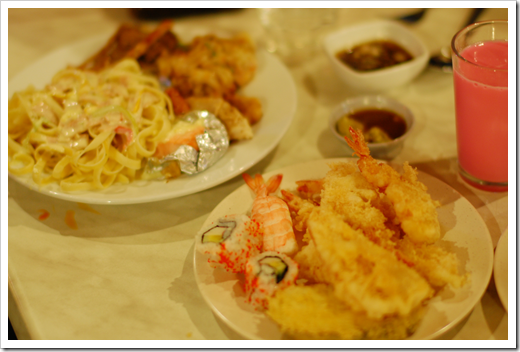 My first round of many, many rounds…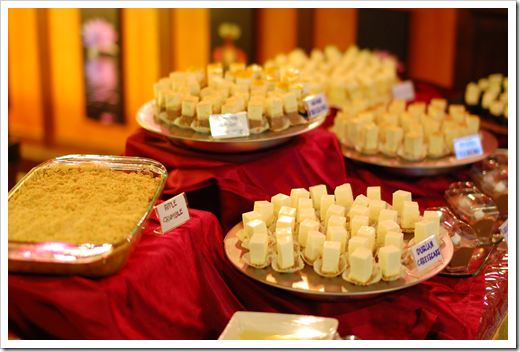 Cheesecakes invasion at Cheezbox! The chocolate desserts would make even Mr Wonka proud…
Quantity doesn't equal quality, I hear you say. But I assure you, Cheezbox offers immense quantity, and even more superior quality. Dishes on offer are not those you can 'tapau' from Tamu. Fettucine Carbonara, Beef Wellington, Baked Mussel, Cranberry Fish Fillet and Poached Salmon in Apple Taragon Sauce are just some of the fine food on display.
Let's start with the appetizers. I had the Thai Tang Hoon Salad, Chicken Pasta, Coleslaw and Fruit Cocktail Salad. I don't usually take two serving of appetizers, but couldn't resist topping up on the Fruit Cocktail Salad.
With that out of the way, I needed a game plan for the main dishes. Do I take the Teriyaki Chicken, Grilled Lamb or Beef Stew first? Couldn't decide, so I took them all.
Next, Butter Prawn, Shrimp Spring Roll or Prawn Wanton in Red Oil? Why 'districtized' the 'prawns' I thought, so I took them all.
Japanese Tofu, Sushi or Tempuras? Well, three was never a crowd.
In the end my plate was so full, I was playing Jenga with my food.
The next 20 minutes was one of the heartiest meals I had in a long time. Honestly, the whole experience doesn't feel like a buffet meal, but those you pay top dollar for at fancy restaurants. To choose a favorite food over the other will be unfair, as I feel the whole menu was prepared with quality in mind, not put together hastily.
Special mention though, I must add, will be the Shrimp Spring Roll and Salmon in Apple Tarragon Sauce. You have to try it to appreciate the full taste.
I am never much a dessert person, but I knew I had to try the cheesecakes, chocolate mousse, puddings, and 'bubur pulut hitam'. No regret, especially the Apple Crumble Pie.
In a nutshell, I must say Sungkai Buffet at Cheezbox ranks very highly in my personal 'sungkai escapade'. For $19.90 per pax, you will get your money worth few times over. The only possible disappointment is not getting a seat at the restaurant, as it has been full house for the past few days. I'll pick up the phone to reserve a seat immediately if I were you, truth be told.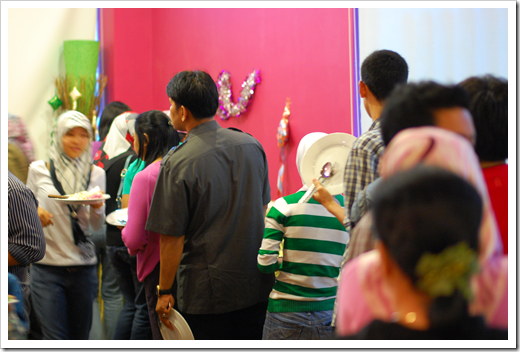 The full house crowd at yesterday's Sungkai…filled to the brim at 6.15pm!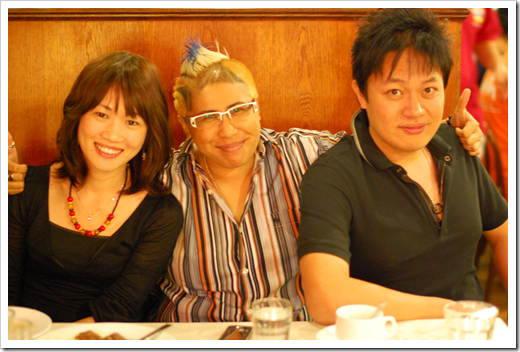 Ever DJ Izan gave the thumbs up!