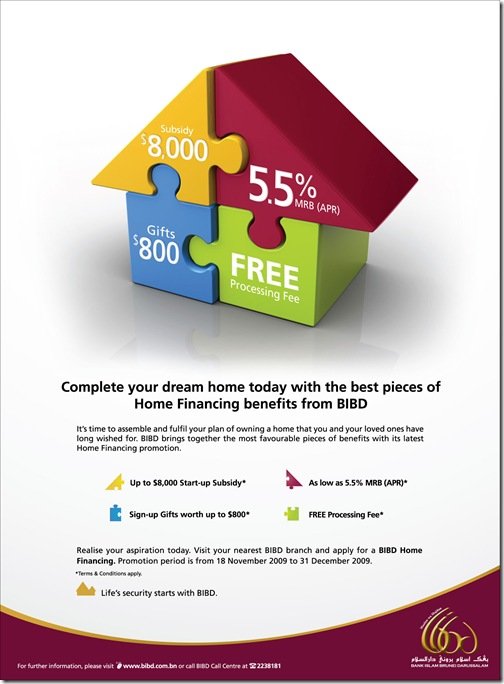 BIBD is pleased to inform you that there are doing a Home Financing promotion starting today 18th November to 31st December 2009. Get the best pieces of Home Financing Benefits and get your dream home from BIBD today!
With the above promotion, BIBD are offering the most attractive offer in the market as the financing rate is as low as 5.5% MRB, subsidies of up to $8,000, attractive and generous gifts ranging from $300 – $800 and also FREE Processing Fees.
No other banks are offering this kind of attractive promotion offers. Why wait for the right time? The time to own a home is now.
Visit your nearest BIBD branch and apply for a Home Financing or call 223 8181.
Life's security starts with BIBD.

The Human Resources and Administration Division of Bank Islam Brunei Darussalam Berhad (BIBD) today held a blood donation at the 10th floor of its Headquarters in the Capital.
The aim of the event was to help patients who are in need of blood and to help save lives. This is the second time for BIBD this year to organise such an event as it is one of the bank's way of giving back to community. It is also one of its social obligations.
At the end of the drive, 41 BIBD officers and staff donated a total of 20 litres and 500ml of blood.
With this, BIBD has indireclty helped patients who need blood especially accident victims, mothers with complicated pregnancies or labours, patients with blood disorders  as well as those who are about to undergo surgeries.