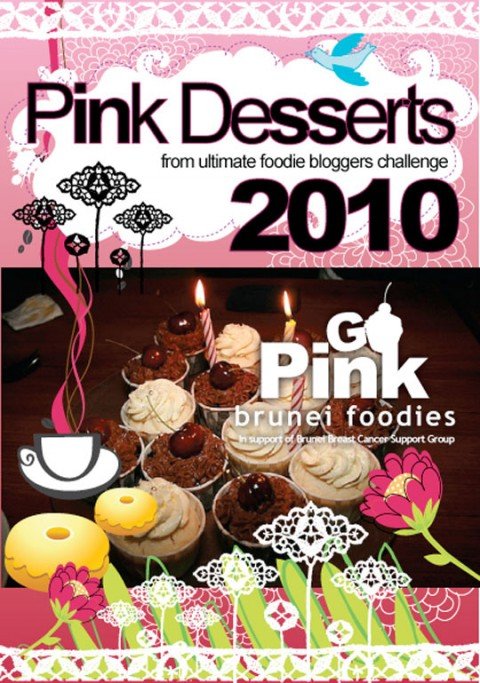 30 recipes and counting. This is for the upcoming Go Pink! event this Sunday and yes, all of you are welcome and do wear Pink to the event. Another good reason to come is that those who are taking part n the RA Twitter Competition, you will be automatically given 20 lucky draw points. All you have to do is show up and catch Ranz and intro yourself and he will jot down your names to be eligible for the 20 lucky draw points.
The food event will feature 30 recipes (desserts and cakes) from a mixture of local and international people. Those who are still keen to send their recipes of their desser (with healthy options), do email to [email protected] by 11th April 2010. If you wish to attend the foodie event and contribute a recipe, appreciate if they can bring their dish for sampling by those attendees.
After the Foodie Event, the recipes will be compiled and published for sale. A later date will be announced on the release of the book. Oh yeah, I forgot to mention that this Foodie Event is to support the Brunei Breast Cancer Support Group. Merchandise will be on sale as well on that day itself such as t-shirts, caps and aprons.
Another good catch for those participating in contributing their recipes and bringing their specialities, you can win 2 return air tickets to KK, cash prizes and other kitchen utensils.
How to participate in the Brunei Foodies Go Pink! Project.
1. Think of one of your favorite desserts.
2. Type down the recipe in your own sexy way and send it to [email protected]
3. Bring it to the venue at 3pm on 11th April, 2010. Here your creation will be subjected to intense food tasting (yummy!) and photoshooting.
4. Eat and socialise 🙂
When and where is this food tasting session?
Day: Sunny Sunday
Date: 11th April, 2010
Time: 3pm-6pm
Address: Casa Esperanza . No 15, Spg 68, Jln 82, Kg Rimba Gadong, Not far from GIANT
Attire: Pink Casual Chic
This Project is initiated by:
– Senor Pablo – EmmaGoodEgg – Maurina – Kurapak – Sasbrownies – My7thlife – Ranoadidas – BruneiFoodies – Brunei Breast Cancer Support Group