Bank Islam Brunei Darussalam Berhad (BIBD) will be participating in this year's 5th International Halal Products Expo which will be held at the International Convention Centre (ICC) from June 3 – 6, 2010. 
BIBD will be featuring, back by popular demand, its repackaged Home Financing promotion. This competitive home financing package is targeted for those who dream of owning a brand new home or a second home.
The BIBD Home Financing package comes with a competitive financing rate which includes benefits such as start-up savings on legal fee, valuation fee and Mortgage Redemption Takaful Assurance (MRTA).
Also available at the BIBD's booth during the Expo is BIBD's Credit Card Care Programme. With only less than a month left until the programme offer ends, public who are still searching to achieve their financial comfort can visit BIBD's booth for more information or to apply.
This credit card consolidation facility will systematically reduce the customer's existing credit card debt to zero over a pre-agreed term. This means that through this programme, customers will be able to settle their various outstanding credit card obligations through 1 Solution.
On top of this, qualifying customers of this facility who assign their salary with BIBD are eligible for a BIBD credit card with a credit limit based on the guidelines issued by the Financial Institution Division at the Ministry of Finance.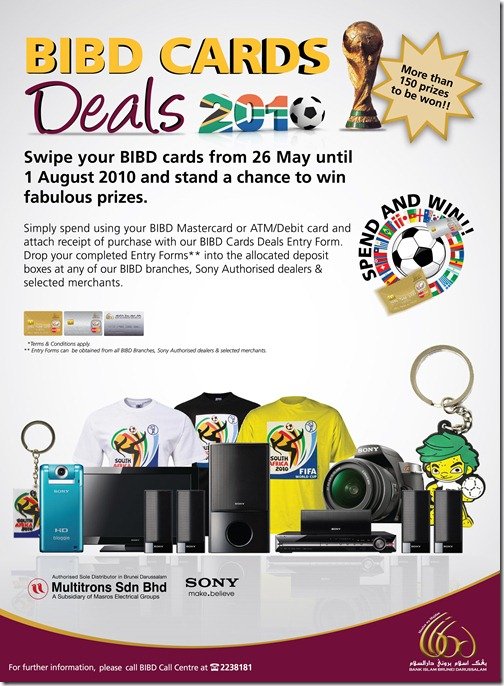 During the expo, public can also visit BIBD's booth to participate in the latest joint-promotion with Multitrons Sdn Bhd, the sole distributor of Sony products in the country, on the BIBD Cards Deals exclusively for its Cardholders.
BIBD Cardholders can stand to win fabulous prizes by simply charging their purchases with their BIBD Mastercard in the country or overseas and also via their ATM/Debit Card at participating local merchants.
All the cardholder has to do is attach their receipt of purchase with a completed BIBD Cards Deals Entry Form and drop it into allocated "BIBD Cards Deals" boxes available BIBD Branches, Sony Authorised dealers and selected merchants.
Entry forms can be obtained from all BIBD branches, Sony Authorised dealers and selected merchants. However, in the event that entry forms are not given, customers can collect their entry forms from any BIBD branch by just showing their receipt of purchase to our tellers.
From June 3 -6, customers can collect or submit their entry forms from BIBD's booth at BB1-3/ BB7-9 in ICC.
A grand prize of Sony 40" Bravia LCD TV together with more than 150 prizes comprising of Sony products and World Cup 2010 merchandises are up for grabs.