A few weeks ago, I ran a poll in which I asked you to nominate and subsequently rank your favorite halal chinese restaurants in Brunei. There were questions about what the criteria were and in order to keep it as simple as possible, I did not put forth any specific criteria apart from the word "favorite". Thank you all who took part in this exercise and below is the final result of based on average ranking received by each restaurant.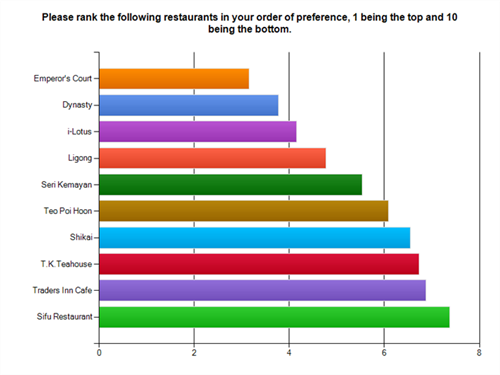 I must say, I'm quite surprised with the rankings as some of the restaurants I thought would be ranked higher ended up at the bottom half. The two RBC chinese restaurants were at the top of the table and this should come as no surprise to many as RBC has been around a long time and the RBC branding is pretty strong in Brunei as a symbol of quality and dependability. Emperor's Court and Dynasty are staples among Bruneians when it comes to halal chinese dining. Emperor's Court is becoming a popular Sunday Dimsum destination for Bruneians, as fellow foodie Hunnie discovered.
Third placed i-Lotus is a relative newcomer to the scene but has managed to attain quite a strong following among Bruneian diners. Their sungkai buffet and midnight sahur buffets are among the most heavily booked during Ramadhan which is coming up shortly.
In fourth place, Ligong is synonymous with Chinese fine-dining in opulent surroundings of the Empire Hotel & Country Club. Their all you can eat Wednesday night buffet is a definite hit and a thoroughly enjoyable feast. Sundays at Ligong are also pretty crowded with families enjoying the Sunday brunch buffet.
Placed in the middle of the field is Seri Kemayan, which overlooks the bowling alley so you can watch the bowlers in action while you eat 🙂 The last time I was there, I really enjoyed their Crystal Duck. Its not on the menu, so you have to ask for it (I think ordering in advance is encouraged). I've never seen duck served this way before. I think the (cooked) duck meat was combined with prawn meat and fried in a batter. The end result is a crispy, tasty treat which when eaten, one can't help but to try and differentiate the flavor of the duck meat and the prawn meat… delightfully confusing!
Teo Poi Hoon takes sixth place in this ranking. This family-owned establishment is a favourite among Bruneians for a family style chinese meal in a quaint kopitiam setting. In seventh place is Shikai (or Four Seas Hut), another newcomer which for me, is THE go-to place for some superb duck-rice. Even Thanis aka Chef-for-hire extraordinaire agrees with me on this one!
Off to the train station now to catch a train to London. The rest of this post later. Stay-tuned!