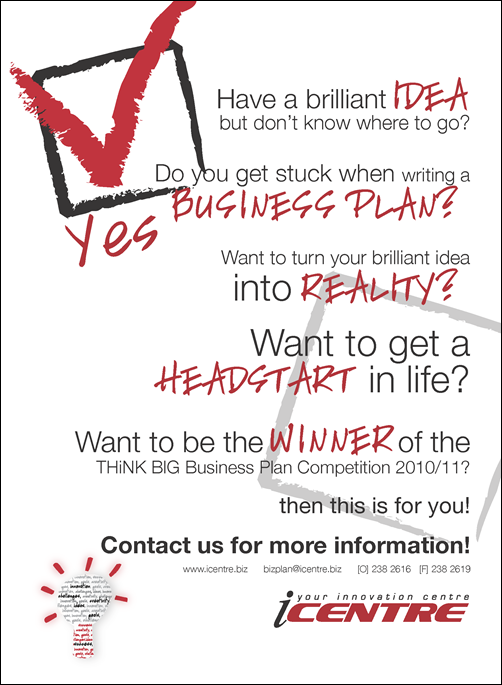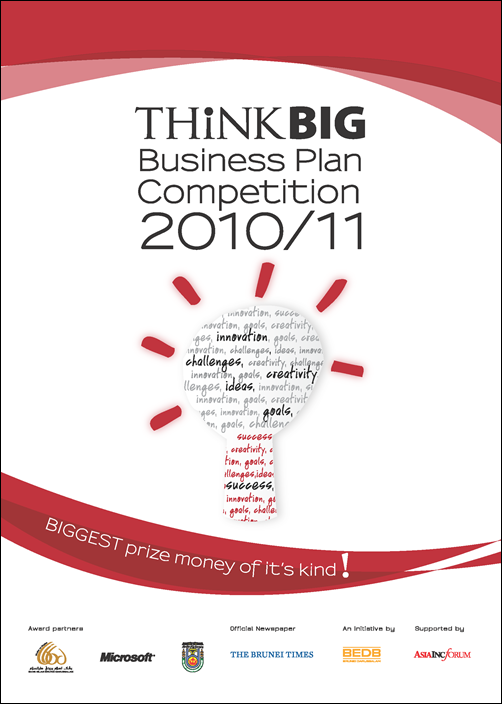 iCentre, the first ICT incubator in Brunei Darussalam, again brings you the THiNK BIG Business Plan Competition for 2010/11. iCentre aims to motivate and educate local entrepreneurs to turn their ideas in the ?eld of Information and Communications Technology (ICT) into viable business or involves developing a product or service that use ICT as the enabler for a business in an innovative way.
For 2010/11, iCentre has three partners for the Competition; Bank Islam Brunei Darussalam (BIBD), Microsoft (B) Corporation and Universiti Brunei Darussalam (UBD). The THiNK BIG Business Plan Competition still has the biggest prize money of its kind in Brunei Darussalam.
The College and University Students category has been expanded with the introduction of a second and third prize as well as a chance to ?y to the Microsoft Imagine Cup Finals. The Imagine Cup brings new challenges into the College and University Students category to broaden the scope of the business plan competition. Open to students around the world, the Imagine Cup is a serious challenge that draws serious talent, and the competition is intense.
iCentre hopes to inspire and to create more opportunities for the local entrepreneurs to develop their business ideas through enhancing their creativity, as well as providing a platform to identify, nurture, develop and showcase their entrepreneurial talents.
All shortlisted business plan participants will go through three intense Bootcamp workshops conducted by highly quali?ed practitioners. Participants are also encouraged to attend the THiNK BIG Technology Forum in October to assist them in ?nalising their best business plan for the ?nal judging.
The Business Plan Contestant Kit is available on the icentre website at www.icentre.biz