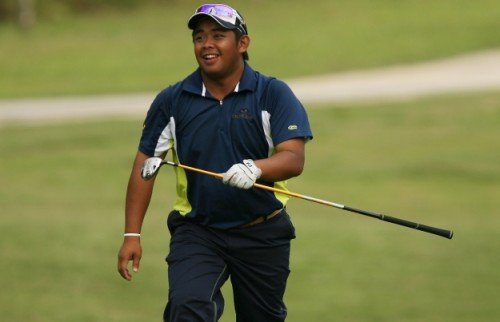 Kuala Lumpur, July 7: Unheralded Faiz Damit will spearhead the local challenge in the US$300,000 Brunei Open later this month with hopes of upstaging the stars from the Asian Tour.
Faiz will feature for third time at his national Open from July 29 to August 1 and hopes to become the first local professional golfer and second Bruneian, after amateur stalwart Seruji Setia, to qualify for the weekend rounds.
The 24-year-old will be one of three Brunei professionals to compete at the majestic Empire Hotel and Country Club alongside Pengiran Hassanal Alhaj, the country's first professional, and Wira Salleh.
As a teenager, Faiz remembers watching the inaugural Brunei Open in 2005 and although there wasn't a great sense of excitement for him back then, it eventually inspired him to take the game seriously.
He now reckons the successful staging of the Brunei Open has been the main reason for the development of golf in the country.
"I was only a boy back then and didn't know anything about golf as our country didn't have a golf background. But the Brunei Open is certainly getting bigger and we have more upcoming professionals. Our aim is to play in the Brunei Open and I'm one of them," said Faiz.
Like all aspiring pros, Faiz harbours great hopes of lifting the coveted title but realizes that he needs to take it one step at a time in his fledgling career.
"To win the Brunei Open will be quite an achievement. It will be a goal of mine to do it someday. I don't want to just make the cut but in saying this, making the cut will be the first step. Golf is a game of process and that is why I am playing abroad to learn and experience different challenges," said Faiz, who started playing golf seven years ago.
The popularity of golf is slowly blossoming in Brunei and Faiz believes that a good performance by a Bruneian on the established Asian Tour would accelerate the growth of the game in his country.
"If one of us can do well or have a top-10 in an Asian Tour event or play well in the Brunei Open, it will open the eyes of many. Seruji Setia was the first player to make the cut and I hope for this coming event, one of the professionals will make the cut," he said.
Golf wasn't his first love as Faiz represented his country in football during his youth. But the youngster eventually got bitten by the golf bug and has no regrets turning professional despite the initial lack of success.
"In Brunei, they think that once you turn professional, you are as good as Tiger Woods," said Faiz.
"But turning professional is a way of making a living. It was a big decision for me to make as I had to sacrifice a lot. I didn't go to university as I chose golf over my studies. Right now, some private companies and my dad are supporting my career. My dad has asked me to give it a go and you never know what will happen. Golf is a game of one week. You play well in one week, you can make it," said Faiz.
He is certainly hoping that his week comes at the Brunei Open