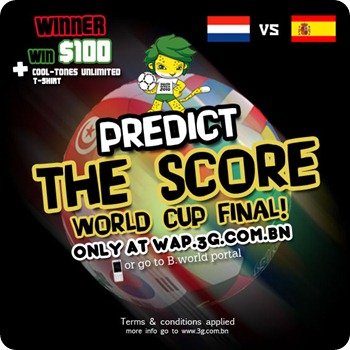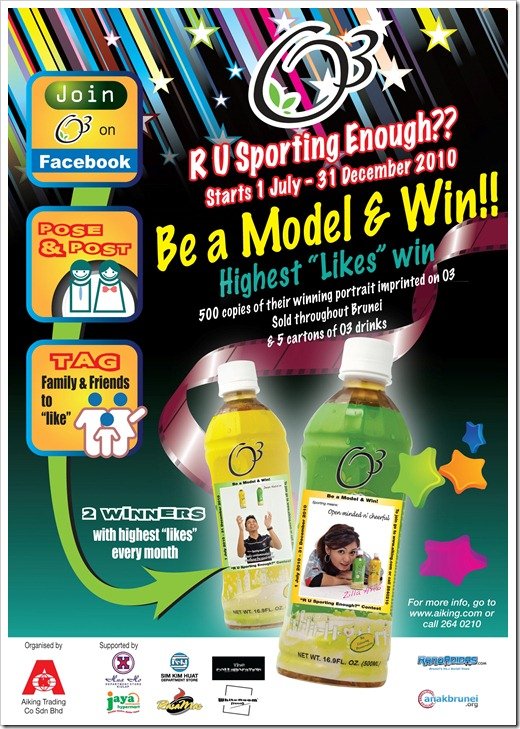 O3 'R U Sporting Enough?' Contest 2010
is gearing up to be a must-enter event!
O3 Ice Green Tea and O3 Ice Lemon Tea will hold this contest on the most popular online social network – Facebook – at their O3 Page. This is the first time in Brunei that a contest is conducted with voting on Facebook. And it provides a virtual social place for O3 fans to interact with each other.
The contest aims to give all O3 fans an opportunity to express themselves in their own portrait, and for the Facebook public to vote for their best liked portrait.
To enter this contest is easy, you only have to upload your portrait photo with O3 drinks onto O3 Facebook Page, say what 'Sporting' means to you, and then invite all your friends and families to vote ('like') for your photo.
Every month, the 2 highest 'likes' based on public polling will be the winners! And you may enter up to 10 different photos each month. There are ample opportunities as the contest will run for 6 months, starting from 1 July 2010 to 31 December 2010.
Each winner will get their winning portrait imprinted on five hundred (500) O3 bottles to be sold throughout Brunei, and also receive 5 cartons of O3 drinks. The contest is open to all o3 consumers residing in the Sultanate, irrespective of the residential status.
The organiser is Aiking Trading Co. Sdn Bhd, the sole agent for O3 in Brunei Darussalam, and the contest is supported by Rasamas, major departmental stores and supermarkets, including Hua Ho Kiulap, Jaya Hypermart and Sim Kim Huat (SKH), White Room Studio (WRS) and the most popular bloggers – Ranoadidas.com, Anakbrunei and The Collaboration.
For full details of this contest, please refer to www.aiking.com or email [email protected] or call 2640 210. Don't wait, go get your O3 drinks in all major departmental stores and supermarkets today!