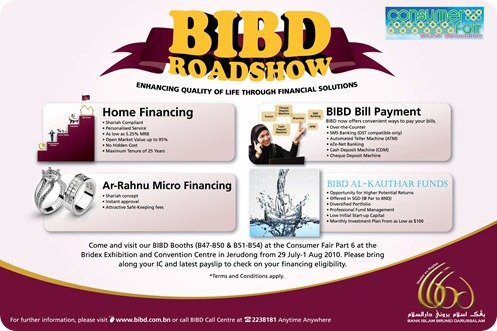 July 28, 2010 – Bank Islam Brunei Darussalam Berhad (BIBD) will be participating in this year's Consumer Fair Part 6 which will be held at the Bridex Exhibition and Convention Centre in Jerudong.
During the four-day fair, that will run from July 29 to August 1, 2010, BIBD will be offering, back by popular demand, its repackaged Home Financing promotion. This promotion is targeted for those who are dreaming of owning a brand new home or a second home.
The BIBD Home Financing package comes with a competitive financing rate which includes benefits such as start-up savings on legal fee, valuation fee and Mortgage Redemption Takaful Assurance (MRTA).
Also offered at the BIBD's booth during the Consumer Fair, is a new product from Ar-Rahnu Micro Financing called Ar-Rahnu Al-Jauhar. This is a Shariah-based pawn-broking that allows individuals to acquire financing facilities using white gold items as collateral.
Besides that, visitors should drop by BIBD's booth to learn about the six convenient ways of paying their bills – ATM, Cash Deposit Machine, Counter, Cheque Deposit Machine, Branches and SMS Banking. Approach any of our BIBD staff to find out on how to register and the participating payees.
For those who are interested to know more about investment or are looking for an opportunity to attain higher potential returns, come and visit our booth to find out more about BIBD's Al-Kauthar Funds. These funds cover a diversified portfolio needs only low initial start-up capital.