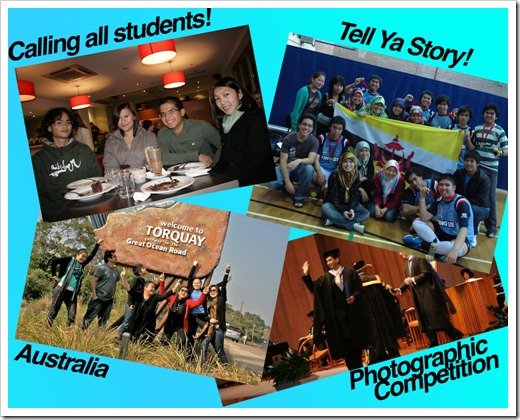 The 'Tell Ya Story' Australian Photography Competition will be held from June to August, to give those who have studied in Australia, the opportunity to document their memories and tell their story of their time in Australia, through photographs!!
We want to see your favourite snaps of your time in Oz… did you hike the Blue Mountains, surf the golden beaches of the Gold Coast, swim with dolphins, cruise the Great Ocean Road, or just get up close n snuggly with Koala Bear?!?  Perhaps you met some of your closest friends for life? 
Whatever your experience in Australia, we want to see your photos and hear the story behind them!!
So send us your pics and in 300 words or less..
TELL US YA STORY!!
We are not looking for the best photo in terms of photographic quality but the photo that most captures the essence of student's time in Australia!!
RULES & REGULATIONS
The competition is open to the Brunei – Australian Alumni Community and any non-member Bruneians that are currently studying or working in Australia, or are former students who have returned to Brunei.

Entries submitted must be relevant to the theme and judging will be based on the most relevant entry to the theme rather than the most 'photogenic' photo.  Entries will be judged on the basis of creativity in relating to their experience in Australia.

Entries submitted must be in both print (8" x 12") and digital raw or jpeg format (at least 3,000pixels), either in black and white or colour.

Entry to the competition is FREE of charge and each participant can submit up to 4 entries.

Prizes will be awarded to TOP 5 best photos and include digital cameras, external hard drive and other great prizes.

Entries submitted must be a single work of original material taken by the participant for the purpose of the competition and must not have been used or published before.

All entris submitted (winning and non-winning) shall become the property of the  B-AAA and Australian High Commission.  By entering the competition, participants agree to have their submitted photos used by the B-AAA and Australian High Commission for any publicity purposes without fees or other form of compensation.

The organiser is not responsible for any lost or damaged entries.

The judges' decision is final.

All entries must be submitted to Peta Pike, at the Australian High Commission by 4.00pm, 27 August.  For further inquiries, please email

[email protected]

.