By Elisabeth Donati
Question: What is the right age to start teaching kids about money?
Answer: If they are breathing, they should be learning about money!
OK, that may seem a little over zealous, but here's the thing…
Just like our need for oxygen from the moment we pop out into the planet, most of us don't survive very well without ample amounts of financial resources to provide for the things we need. We really do NEED money in our lives to survive well and you can't convince me otherwise.
Even if you're a monk, somewhere there is money exchanging hands to handle your needs.
The fact is, you can work for (trade your time and energy for), beg, borrow or steel, the things that you need to live: water, food, clothing, shelter, education, transportation, etc. Even if YOU are not working for these things, it took money for SOMEONE to pay for what you are begging, borrowing or stealing!
Where is MONEY on the NEEDS vs WANTS scale anyway?
Seriously. In any classic "needs vs wants" lesson, I've never seen MONEY on either side. This strikes me as absurd because without MONEY, it's hard to have anything on either list.
Legislatures Debating Over What Age to Teach Financial Wisdom To Our Kids
All over America, governing bodies of well-meaning adults are trying to decide when financial education should be taught in school. The answer is quite simply…
In Every Grade at Every Age
Click here to read the rest of the article.

COOLTONES Presents Prizes to Lucky Winners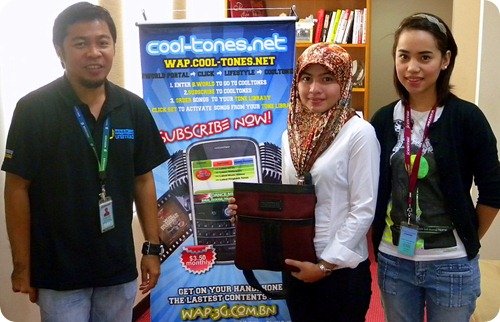 Winner of Burberry Handbag, Nurul Massanita receives her prize today at icentre, Anggerek Desa. Present to giveaway the prize to the winner is representative from Cool-tones & 3g.com.bn. Nurul Massanita, a lucky cool-tones subscriber was drawn from the lists of cool-tones subscribers to win an authentic Burberry Handbag in conjunction with the Hyundai SMS Quiz competition which ended last month. Two winners were drawn live on Pelangi last week to found out who are the lucky winners for Burberry handbag and World Cup Jersey. World Cup jersey was won by Mohammad Khairulamielin.
Cool-tones will be giving out more prizes to its subscribers with various competitions in conjunction to its 3 year service to its customers. With its latest launch of Cooltones Unlimited, cool-tones subscribers who subscribed to Cooltones Unlimited service will stand a chance to win an Ipad. This competition will ends in August 31st.
To subscribe visit or wap.3g.com.bn via mobile and click cooltones unlimited.
Also in conjunction with CoolTones 3rd year Anniversary which falls on 1st August 2010, for the first time since its establishment Modasys Technology will be holding a Cool-Tones Awards in response to CoolTones & 3g.com.bn support towards the local Music Scene in Brunei. 5 categories will be awarded to the most voted Best Female, Best male, Best Duo or Group, Most voted Artiste and Best Achievement Awards.
In order to vote for their favourite artiste to be nominated, fans must vote via SMS by typing CTA followed by the artiste's code no and send to 38833. For a complete lists on the nominated artistes just visit the CoolTones and 3g.com.bn official website at www.3g.com.bn.