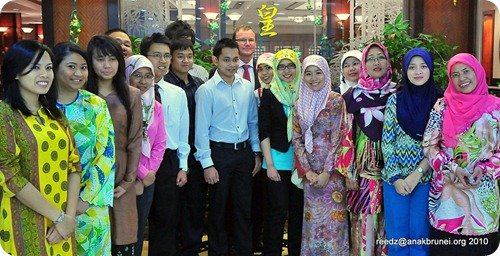 Bandar Seri Begawan – The British High Commission would be launching a project entitled "Digital Scrapbook for Brunei Students in UK" soon with the aim of analysing the experiences of Bruneians who have spent several years in British universities.
Mr Rob Fenn, the British High Commissioner to Brunei Darussalam, said this during the hosting of Sungkai' for about 20 students representing Brunei's Student Association in the UK and Chevening Scholars, at the Emperor's Court at Hua Ho Manggis, yesterday.
"The project is hoped to add to the existing success stories and the ways in which these individuals have achieved their goals and how a British education has helped in reaching their full potential.
"Overall, Bruneian students and the people who prime them for study in the UK, have had great success striking the all important balance between being open to new experiences – what the university is all about – and staying focused and safe," he said.
The UK's popularity for further education among Bruneians, including A-Levels, Degrees, Masters as well as PhD's, has been credited to the strong relationship between both countries.
Mr Fenn has welcomed all Bruneian students studying in British universities to tell their stories in whatever format they are comfortable with.
"They can e-mail me, write to our website or make their own audio visual movie," he said and quickly added that a lot of Bruneians are taking Media studies and "this is a chance for them to unlock their talents".
The British High Commission will be collaborating with Md Reeda Malik of anakbrunei.org in the project. Md Reeda was a Chevening Scholar in the Social Impact of New Media in Leicester.
The project will spread out throughout the year (six to eight months) and will be featured in "UK in Brunei" website. — Courtesy of Borneo Bulletin
More at the UK in Brunei FB page