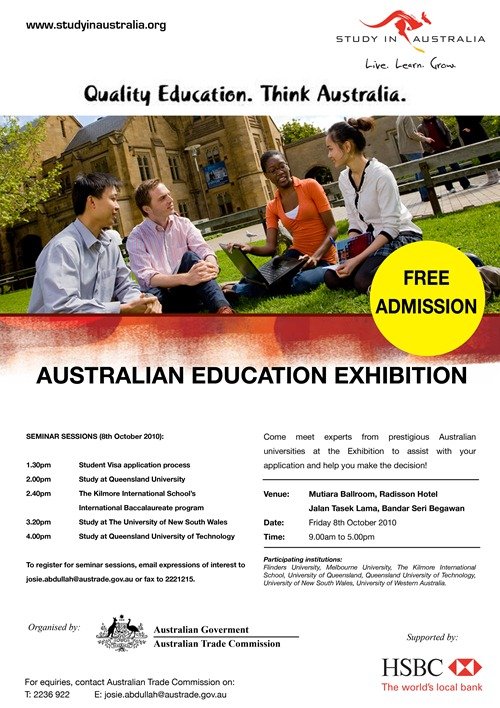 Representatives from leading Australian educational institutions will be in Brunei for the annual Australian Education Exhibition organised by the Australian High Commission. The exhibition is one of the regular promotional events under  the  STUDY IN AUSTRALIA  banner being coordinated and managed by Australian Trade Commission across ASEAN region.  The upcoming exhibition  will be held at the Mutiara Ballroom, Radisson Hotel, Bandar Seri  Begawan  from 9.00am to 5.00pm on Friday 8 October 2010.
Visiting representatives from the Australian institutions will be on hand to provide first hand information on course programs and assistance and guidance with course selection.  Students and parents can also obtain advice on scholarships, accreditation of prior learning, fees and expenditure and general information on living and studying in Australia.
A series of parallel seminars will also be held in the afternoon of 8 October from 1.30pm to 4.40pm.  Topics covered will be on Student Visas, Studying at the University of Queensland, The Kilmore International School's International Baccalaureate program, Study at the University of New South Wales and Studying at the Queensland University of Technology.   The seminars and the exhibition are open to the public and admission is free.  Guests are advised to register in advance for the seminar sessions as seating is limited (you can register at the contact address below).
The exhibitors at the Australian Education Exhibition are Flinders University (Adelaide), University of Melbourne ,  University of New South Wales (Sydney),  University of Queensland/UQ Foundation Year (Brisbane),  Queensland University of Technology (Brisbane),  University of Western Australia (Perth) and  The Kilmore International School  (Melbourne).
Australia is proud of the quality of its education and training. Students from all over the world come to Australia for its world-class higher education, progressive vocational education and training (VET), excellent schools and its international English courses.  All institutions and courses have to be registered by the Australian Government, which takes a strong interest in maintaining the quality of education for Australians and international students alike.  With its very sophisticated education and training system, students are not only exposed to world-class courses of study, they also receive specialist support services.
Over 5,000 Bruneians have attended Australian institutions to date and Australia continues to be one of the preferred education destinations for many Bruneian students.
For further information, please contact Austrade on 2236922 or email [email protected]
Australian High Commission
27 September 2010