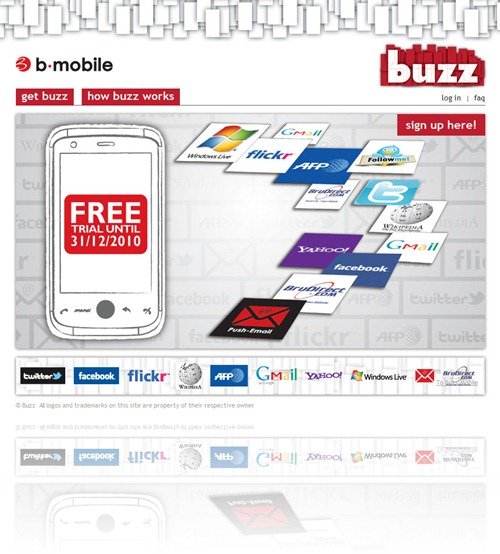 B-Mobile today introduced a Blackberry-like service called BUZZ which is designed to work on over over a thousand different models of 3G mobile phones, including Blackberry

.
BUZZ provides B-Mobile subscribers automatic delivery of internet email messages from any of their business and personal email accounts, mobile access to attachments, and convenient access to many online contents, along with easy connection to popular social-media applications such as Facebook, Twitter, etc. In addition to this, BUZZ users can opt to receive scheduled automated deliveries of their brudirect news and global headlines through their mobile phones.
BUZZ users will be able to sync numerous e-mail accounts to the push-email system that will receive and store all incoming and outgoing messages in a consolidated inbox all viewable through the mobile phone. "Buzz also keeps track of the addresses of emails sent and stores it in the web site so users can easily access them when they want to send emails from the web." This will enable users to constantly be kept-in-the-loop with all of their happenings, professional or otherwise.
As part of B-Mobile's initiatives to further cater to its growing user base with up-to-date telecommunication technology, BUZZ was devised to work on 3G mobile phone models and not limited to specific smartphones. In a statement, Senior Marketing Manager, See Wie Kie said, "push-based technology is on the rise because it allows users to respond quickly and make effective decisions. In light of this, it should be made available to the masses regardless of whether they own smart or high end phones."
He further added that interested subscribers can utilize this push-content service for a monthly subscription fee of BND 2.99 and according to See Wei Kie, "for those looking into a ready, accessible and most affordable option, BUZZ is the solution they have been waiting for. Furthermore, BUZZ is a value added service available to both B-Mobile postpaid and prepaid customers."
According to B-Mobile, there is no monthly upfront payment required and this no frills subscription to BUZZ can easily be done by going to www.buzz.com.bn through your pc or your mobile phone. Subscription to BUZZ will not affect the normal usage of the customers' mobile phone activity such as calls, internet browsing or SMS. Normal data charges however would apply.
To find a full listing of all compatible mobile phone models, B-Mobile users can simply do so by visiting www.buzz.com.bn or call B-Mobile's Customer Careline 177.