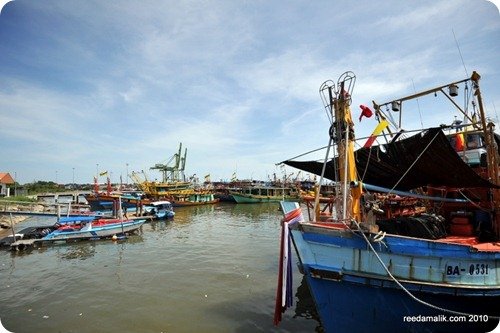 FISH: live, fresh, cooked, processed and even ornamental were abound at this year's Fisheries Carnival, which opened yesterday at the Fish Landing Complex in Muara to a steady stream of visitors eager to capitalise on the products on offer.
Various species of crab and prawn, along with other seafood were also marketed by some 53 local entrepreneurs from the three main sectors of Brunei's fisheries industry: capture fisheries, aquaculture and processed seafood sectors.
Fish played a significant role in daily diet, highlighted Industry and Primary Resources Minister Pehin Orang Kaya Seri Utama Dato Seri Setia Hj Yahya Begawan Mudim Dato Paduka Hj Bakar, who also noted that 15 to 20 per cent of the world's protein intake came from consuming aquatic animals.
Fish also contained essential vitamins and nutrients as well as oils beneficial for child brain development.
"Therefore, we have a strong reason to make fish as one of the important sources of food in the diets of the residents of this country," Pehin Dato Hj Yahya said in his remarks during the opening of the eighth edition of the annual carnival yesterday.
Aside from the edibles, other booths at the carnival also showcased products such as fishing gear, aquarium fish and accessories, as well as booths to promote marine eco-tourism through sports fishing and diving.
The four-day carnival, which ended yesterday, also featured exhibits to educate the public on the functions and projects of the Fisheries Department, as well as other related government agencies and private sector entities.
Among the objectives of the Fisheries Carnival was to promote investment in the fisheries industry and to assist operators in the industry to promote their products by providing a venue such as the yearly carnivals, said Fisheries Director Hjh Hasnah Ibrahim.
Seafood cooking demonstrations using fresh Pompano fish and the promotion of bottled sardine products in corn oil, along with activities and games for all ages to participate are being held to ensure that the carnival was a family event.
The Brunei Times