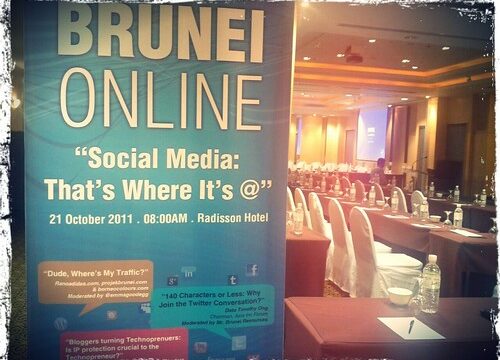 Bandar Seri Begawan – The first-ever social media conference in Brunei Darussalam 'Brunei Online, Social Media: There's Where It's @' was successfully held yesterday at Radisson Hotel in the capital.
Nearly 80 social media aficionados joined the conversation at the informal gathering. Among them were renowned entrepreneurs and individuals who apply the tools of social media in their lives – whether it is for business or as an individual member of society.
The conference commenced with a welcoming remark by Azhani Daniel of emmagoodegg.com who spoke on the importance of using social media platform such as Facebook, Twitter, Google or Youtube to communicate with other users or clients.
Shortly after, a presentation on 'Backbone for Social Media' was delivered by General Manager, Product Development of TelBru, Mr Lim Ming Soon. He spoke on boosting the tools and services that Telbru has provided for its customers to abide with the growing popularity of social media application and practices.
This was followed by the first session of the conference dubbed 'Dude, Where's My Traffic?' by key social media personalities namely, Rano Iskandar of ranoadidas.com, Delwin Keasberry of projekbrunei.com and Dinoza Mahruf of Breeze Magazine, Sabah, Malaysia.
Although all three key personalities come from different background, using various social media application, they all share one common ideology, the utilisation of social media for the betterment of their practise.
Breeze magazine has attracted more than 10,000 readers from 300 after migrating from its conventional website to creating a 'Page' in Facebook.
Similar cases transpire with ranoadidas.corn and projekbrunei after using social media tools such as Facebook and Twitter.
The increase was also the result of "creative" posts by the social media personalities. "It's all based on the content, editing or the photos posts at my blog," said the founder of ranoadidas.com.
He added that posts should be "positively innovative" and "not damaging" to the individual.
This session was moderated by Azhani Daniel of emmagoodegg.com.
The rejuvenating first session was then followed by an interesting topic in session two, '140 characters or Less: Why Join the Twitter Conversation?' delivered by Dato Timothy Ong, Chairman of Asia Inc Forum and a recent Twitter user, which was moderated by Awg Hj Mohd Rozan bin Dato Paduka Hj Mohd Yunos, the Permanent Secretary at the Ministry of Culture, Youth and Sports and the man behind the popular blog, bruneiresources.com.
In the final session, Keeran Janin, Founder of MeSixty and Simon Soo, Director of Mint progress spoke on the topic 'From Idea to Enterprise: What Does it Take?'.
The discussion was moderated by Tom Bonius, Social Media Coordinator, Rapidea Solutions, Sabah, Malaysia.
Guests were able to post their questions online at real-time a tool called PigeonHole. Organisers believed that the tool enabled conference attendees to post and vote for questions by using their mobile web device.
Muhammad Reeda Hj Malik, TelBru's General Manager for Media and Communications said that TelBru is proud to be the main sponsor for the inaugural social media conference in the country.
"We realise the importance of social media and the role that it plays in today's social and business environment.
Overall, it was a very engaging and educational conference and I hope that participants gained a deeper understanding of social media and how they can apply it for a greater purpose," he said.
Meanwhile, Rano Iskandar, one of the people behind in the event said he was happy with the good response from the public for the first-ever Social Media conference.
He revealed that there will be more similar events in the future.
"We are planning to invite more people and relevant authorities in order to see how they can leverage social media in a positive way.
After all, our role here is for the community and individual in the public and private sector to take notice of the shift from social media in the country and regionally."
–Courtesy of Borneo Bulletin