Yesterday, Microsoft announced the availability of Windows 8 for its customers in Asia Pacific and around the world. Beginning on Friday, October 26, consumers and businesses will be able to experience all that Windows 8 has to offer: a beautiful new user interface available on more than 1,000 Windows 8 certified PCs and tablets, and a wide range of apps with the opening of the Windows Store in 17 markets across Asia Pacific.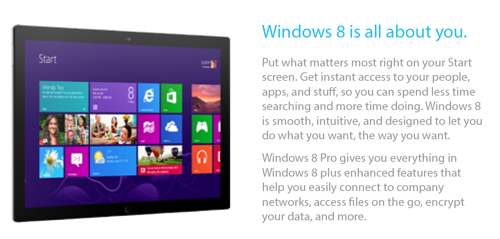 Windows 8 will be available for download onto existing PCs in over 140 markets and 37 languages. New devices from a wide range of manufacturers—including Asus, Acer, Dell, Fujitsu, HP, Lenovo, LG, Samsung, Sony and Toshiba—will be available at retail locations throughout Asia Pacific. Customers will be able to choose from a range of new models, including notebooks, tablets, all-in-ones, touch-enabled ultrabooks and convertibles, all built for Windows 8.
"With the launch of Windows 8, Microsoft is unveiling a reimagined Windows to the world," said Tracey Fellows, President of Microsoft Asia Pacific. "Whether you want to consume or create, whether you want to work or play—Windows 8 delivers a no-compromise computing experience. You no longer need to choose between the fun and convenience of a tablet and the power and productivity of a PC."
Windows 8 will be available in two versions at retail, Windows 8 and Windows 8 Pro. Launching at the same time is a new member of the Windows family designed for ARM-based tablets, Windows RT, which enables new thin and lightweight form factors with impressive battery life. Windows 8 features the new fast and fluid Start screen that gives people one-click access to the apps and content they care most about, the entirely new Internet Explorer 10 that is perfect for touch, and built-in cloud capabilities with SkyDrive. Other built-in apps include:
People: See the latest info and start conversations with contacts from your email accounts, Facebook, LinkedIn, Messenger, Twitter, and more.
Photos: See your photos and videos in one place, whether they're on Facebook, Flickr, SkyDrive, or another PC.
Music: Browse your music collection, create and edit playlists, and keep up with the hottest new releases. See artist details with pictures, bios, and album lists.
More than 30,000 developers have participated at Windows 8 developer events across the region, and some of the most popular local apps in Asia Pacific are now available in the Windows Store:
News: The New Zealand Herald (New Zealand), ThaiRath (Thailand), Channel NewsAsia (Singapore), The Straits Times (Singapore), Razor TV (Singapore), ABS-CBN News (Philippines), Chosun Biz (Korea)
Games: Fruit Ninja (Australia), Stack the Stuff (Indonesia), JetPack Joyride (Australia), Ancient Frog (New Zealand)
Entertainment: SkyTV (New Zealand), SM Cinema (Philippines), GTH Cinema (Thailand)
Education: Pororo (Korea), Merlion Words (Singapore), My Baby Piano (Korea)
Travel : Air Asia (Malaysia), Korea Bus (Korea), Wego (Singapore)
Sports: New Zealand cricket (New Zealand)
Finance: Westpac (Australia), Bangkok Bank (Thailand)
Books & Ref: Yes24 (Korea),
Lifestyle: iProperty (Malaysia), iProperty (Singapore), ArtNArte (Korea), SG Deals (Singapore)

Through the end of January, consumers currently running PCs with Windows XP, Windows Vista or Windows 7, are qualified to download Windows 8 Pro for an estimated retail price of $39.99 (U.S.). And eligible Windows 7 PCs purchased between June 2, 2012, and January 31, 2013 in more than 140 countries can download Windows 8 Pro for an estimated retail price of $14.99 (U.S.) with the Windows Upgrade Offer, available at www.windowsupgradeoffer.com.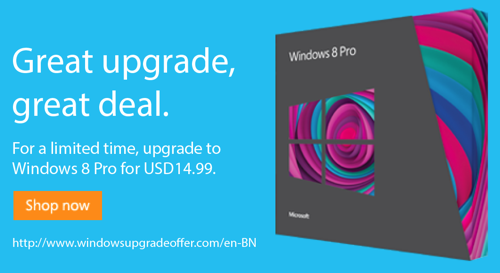 Related articles