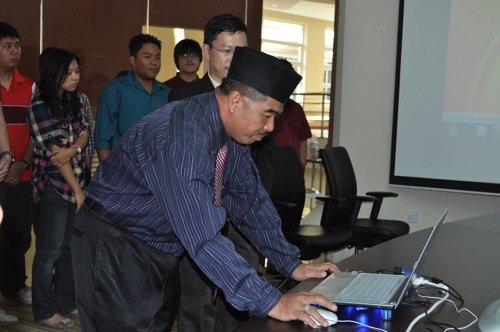 Syarikat Indah Sejahtera Development & Services Sdn Bhd today 6th November 2012 officially launched the Social Network and SMS Integration Features in where2kerja.com. The location was held in The Student Centre, University Brunei Darussalam. It was lucky to have Dr Ramlee Bin Hj Tinkong, Dean of Student Affairs, University Brunei Darussalam and witnessed by Awang Asmadi Ahmad, Counsellor,  group of UBD students and ISDS Team members.
Where2kerja was established in year 2003 as a paperless and cost saving site for human resource administration and job posting. Our purpose is to promote local professionals as well as increase awareness of job opportunities through the use of internet, social network and mobile which includes Android and Apple iOS.
Statistics of where2kerja.com website:-
4,000,000 Page hits
2,000,000 Unique Visitors
500,000 Page hits monthly
28,000 Professionals
5,000 Average Visitor/month  
1000 Job Posts
350 Businesses
ISDS co-partner with their existing supporting subscribers such as Royal Brunei Airlines (RB), Standard Chartered Bank Brunei (SCB), B-Mobile Communications Sdn Bhd and Fitness Zone Health Club to promote local professionals to Improve Career Opportunities by increasing their Internet Visibility.
Where2kerja.com has been supporting by ISDS team, AITI and BEDB on many efforts to create awareness to the local professionals on registering, uploading profile into where2kerja.com. ISDS will kick-off various activities / road show in various districts to assist local professional to register with where2kerja.com for those who needed assistant on IT and with transportation difficulties.
The new features of the where2kerja.com social network are:  Add Friends, Groups, Photos, Events, Career & Employment, Profile Settings. The SMS Integration are: SMS Alerts – Recommended jobs alerts via SMS, Facilitate job application via SMS, Information on request – latest jobs, statistics, application feedback.