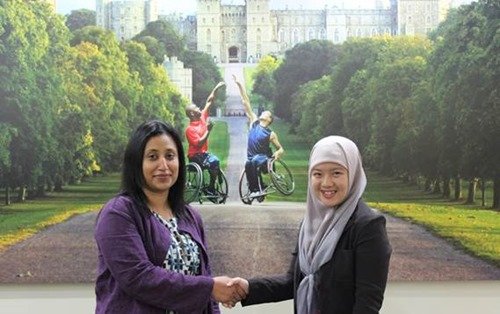 Dk Hanna Afiqah bte Pg Hassanal Ali Saifuddien, who is an A Level student at Maktab Sains PSBS, will be attending the Global Changemakers 7th Global Youth Summit from 25 November to 1 December 2012 in High Wycombe, England. The Global Youth Summit will bring together 60 young social entrepreneurs, community activists and volunteers aged 16 to 21 from around the world to exchange best practices and developing action plans for projects that tackle issues ranging from AIDS/HIV and corruption to education and human rights.
Dk Hanna was honoured to be given the opportunity to be a part of the Global Changemakers network and attend the Global Youth Summit. She said, "I'm looking forward to networking with inspiring global changemakers from all over the world when we gather at the Global Youth Summit and to exchange ideas that if cultivated can potentially help societal issues and help our own local communities back home."
During the summit, participants will work in issues-based groups (e.g. environment and climate change, social entrepreneurship, education, human rights) to develop plans for joint and individual projects aimed at addressing these issues and raising awareness about them. In addition, the participants brought into the network at the Global Youth Summit become eligible to apply for individual grant funding and support. They will also join existing workgroups collecting knowledge, ideas and best practices and share their ideas and experience with the wider Global Changemakers community.
British Deputy High Commissioner to Brunei, Sunny Ahmed said, "I am delighted that Dk Hannah will be joining the Global Changemakers Youth Summit in the UK (supported by the British Council). She is clearly a very bright and motivated young lady (selected from amongst thousands of applicants), committed to bringing about positive change. It is fitting that Dk Hanna will be embarking upon a journey of personal development just days after His Majesty outlined the Development of Youth as a priority area during Brunei's chairmanship of ASEAN. We look forward to working with Dk Hanna upon her return and believe she will be an inspiration to other young people in Brunei and around the world."
Dk Hanna was selected from over 3400 applicants from all over the world to join the Global Changemakers network. The Global Changemakers programme is a group of young people between the ages 16 and 25 who have demonstrated a track record of achievement in their local communities through social entrepreneurship, social activism and voluntary work. They are part of a global network where they share ideas and best practices, and participate in high-level political and economic events to act as advocates for the youth.
There are currently over 800 Changemakers, more than 200,000 young people involved in Global Changemakers activities each year, and 3.2 million beneficiaries of GCM projects. Since its inception in 2007, Global Changemakers has organised and run over 15 regional and global youth workshops across the world – in Amman, Beirut, Brussels, Cape Town, Doha, Harare, Rio de Janeiro and London, among others. Global Changemakers have been invited to participate in World Economic Forum events, the Clinton Global Initiative, G20, UN World Climate Conference, Women Deliver, and the launch of the World Bank's Youth Anti-Corruption network, among others.