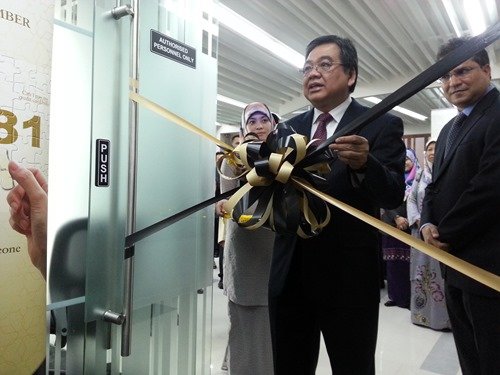 BANK Islam Brunei Darussalam yesterday launched a state-of-the-art contact centre to better cater to customers' needs and enhance customer satisfaction.
The call centre, which is an upgrade of an existing facility, has 28 agents working on 12-hour shifts to ensure it is reachable and fully staffed 24 hours a day.
"The vision is that we want to take as many customers away from branches and enable them to contact us for services with just a phone call or a click on the computer. We want to ensure that the branches are concentrating on their core business of bringing in customers while we service the customers," said David Ng, the BIBD's call centre manager.
With the upgraded call centre, BIBD customers will be able to make use of the phone banking service the "Interactive Voice Response".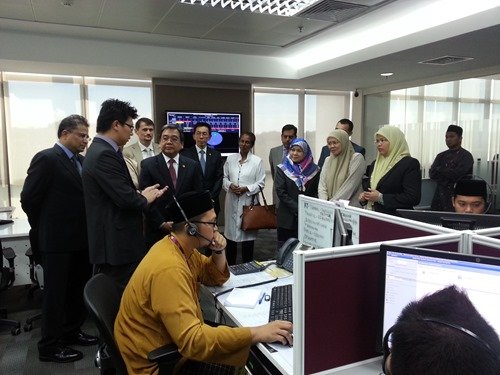 The system is for customers who are unable to get 3G or internet access. It is a self-service facility through the phone which allows customers to check their balances, accounts and credit card status, as well as make bill payments, including phone bills, electricity bills and water bills.
"We also have in the pipeline a lot of exciting features that are going to be inputted next year. A lot of the mechanism that will be put in place next year would be to further enhance customer satisfaction by catering to customers' questions immediately and to have a 360 degree view of the customer," Ng said.
The contact centre will also handle all aspects of communication, including social media. BIBD has 11,000 followers on the Facebook network and customers' queries can be handled through that social media channel.
"It has proven very successful. We don't necessarily give information directly there, but we get to ask the customer for the information such as their identification card number and their contact details to get verification, so that we can get back to them with the answers that they require," Ng said.
The call centre, located at BIBD's Kiulap branch, fields an average of 750 calls a day. The centre gets a maximum of 1,300 to 1,400 calls daily during the peak period and 400 to 500 off-peak calls.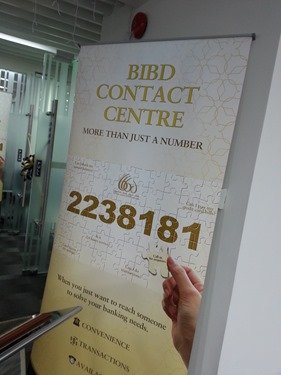 Customers calling the centre can enquire about the location of branches, as well as operating hours. It also caters to enquiries on bank promotions.
The new system builds on an earlier one that was opened in 2009 to handle normal queries and information, and will assist in promotions. Then, the call centre was manned by six agents working out of a conference room. It was able to handle only 12 calls at any one time.
The call centre began to grow between August to September 2011 when BIBD realised customers were beginning to rely more on the call centre for information on their accounts and facilities and services offered by the bank.
In November that year, BIBD started to search for a state-of the-art system after receiving customer complaints about being unable to reach an agent.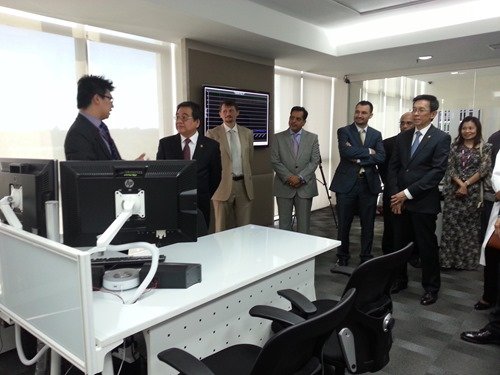 Ng said the centre was not launched earlier because the bank wanted customers to visit BIBD's branches so that transactions could be carried out immediately.
However, the bank realised that phone and internet banking were more convenient, he added.
"As we are encouraging customers to use the centre more and move away from coming into branches, frontliners in the bank may even be asked to assist us," Ng said.
The call centre is not looking to take on outside clients as it is focusing on further improving its processes first, Ng said.
"Commercial development is in the pipeline but it is not our core business at the moment. We are currently focussing on the need to service (our) customers that the 60-person sales team has managed to gain," he said.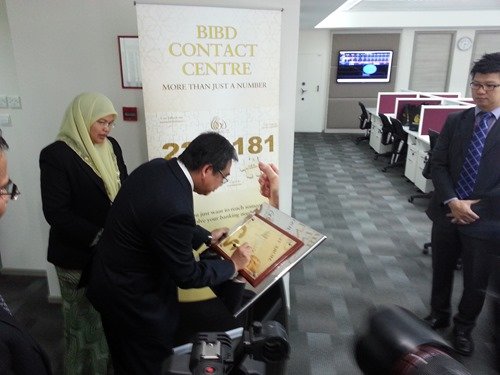 Related articles