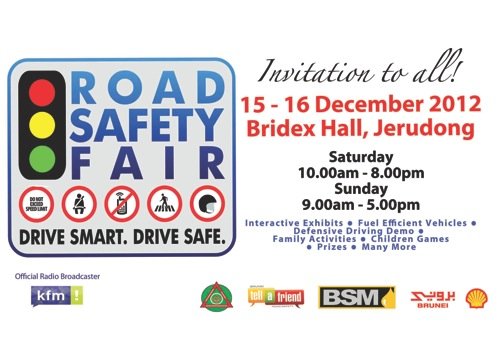 TOWARDS sustaining and strengthening road safety, Brunei Shell Petroleum and Brunei Shell Marketing with their business partners will once again be uniting together to organise the Road Safety Fair.
The second installment to the highly successful launch held at the Pusat Insani in Seria in June 2012, this family oriented two-day event will be held on December 15-16 at Jerudong Bridex Hall, with the theme "Drive Smart. Drive Safe". It will be opened to the public from 12pm to 4.30pm on Saturday and 9am to 5pm on Sunday.
The event is also to support Brunei Darussalam's goal of implementing the United Nations Decade of Action for Road Safety 2011-2020, "with a goal to stabilise and then reduce the forecast level of road traffic fatalities around the world by increasing activities conducted at the national, regional and global levels".
The Road Safety Fair will showcase a comprehensive range of interactive and hands-on road safety exhibits from more than 25 local companies and organisations including Government agencies, which highlights the concerted effort by all the participants towards making a difference to reduce the number of road traffic accidents occurring on the nation's roads.
Another highlight during the two-day event will be the showcase of the local motoring entries for the Shell Eco-marathon Asia held at the Sepang International Circuit in Kuala Lumpur, which were proudly developed by Bruneian students. Brunei students have been participating for the past two years and competed with more than 109 other teams representing 12 countries.
The principle of the Shell Eco-marathon is simple, that is to design and build a vehicle that uses the least amount of fuel to travel the furthest distance. The five vehicles developed by the students are fuel efficient vehicles and runs on regular petrol, battery and also solar power.
Among the other participants at the event are, National Road Safety Council, the Royal Brunei Police Force, Fire and Rescue Department and the Brunei Tell-a-Friend.
There will also be free tyre inspections and several defensive driving demonstrations that will showcase the safe stopping distances for a vehicle under different conditions.
Visitors can also experience a low-speed collision crash using on the Seat Belt Convincer which highlights the importance of using seat belts.
Other activities and exhibits have also been lined up to encourage safer motoring behaviour and actions, vehicle worthiness and creating awareness on the importance of road safety on our roads. Updates on the event can be obtained by following @RoadSafetyFair on Twitter