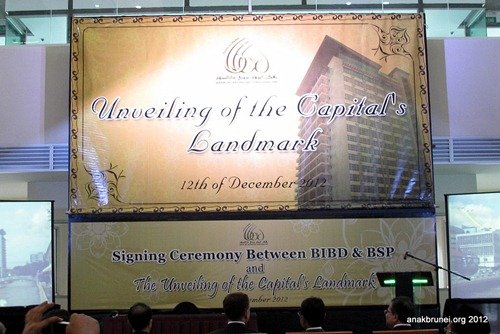 Revamping Of A Modern Icon
The Brunei Malay Teachers Association (PGGMB) building, regarded as among the most modern infrastructures that can be found in the capital, yesterday officially opened its doors following a one-year facelift that was expected to aid in boosting Bandar Seri Begawan and the country's image as a prime business location.
Spearheaded by Bank Islam Brunei Darussalam (BIBD) in the wake of a landmark lease agreement between the bank and PGGMB that was signed in October last year, the renovations and upgrades to the building could perhaps become the benchmark for future office buildings within the country as the structure has taken into account the needs of not just local but international tenants as well.
The ceremony, which was held at the PGGMB building lobby, was attended by the Minister of Industry and Primary Resources in his capacity of BIBD chairman, Pehin Orang Kaya Seri Utama Dato Seri Setia Awg Hj Yahya bin Begawan Mudim Dato Paduka Hj Bakar, along with Deputy Minister of Finance, Dato Paduka Awg Hj Bahrin bin Abdullah and other various senior representatives from the private sector.
An interview with BIBD's Chief Operating Officer Gyorgy Ladics as well as Property Manager for the building Ahmad Nazmie Hj Omar on the sidelines of the officiating ceremony, explained that the "prime office space" has already started garnering the attention of globally established businesses including Brunei Shell Petroleum Company Sdn Bhd, whose Managing Director Ken Marnoch signed with BIBD for the leasing of office space.
Next year will see the moving in of another company from Singapore as well."PGGMB is a highly respectable organisation in Brunei and we see it as an initiative for a local bank like ourselves to actually engage this building, to recognise it as one of the capital's landmark, to attract all these international and local companies and bring them into the capital," they said, which in turn, could also increase Foreign Direct Investment due to easy access to facilities.
With a price tag pegged as being "not an expensive building", the affordability of leasing space even for start-up companies is realistic, and future features such as restaurants, cafes and possibly even a gym, will further increase the building's value.
"If a company thinks they need a new office space be it large or small, this building will be the first thing they will think of We'd like to ensure that this is what will be called the best choice, the first choice, for companies who are looking for space."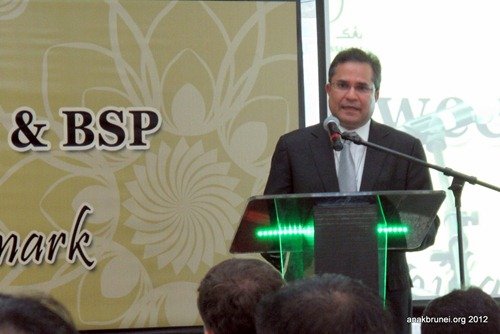 In his welcoming speech, Managing Director of BIBD, Javed Ahmad, explained that the changes had cost an approximate B$7 million, which includes an increase of over 70 per cent of office space available to let that was made possible by the conversion of parking spaces and cinemas into offices. "This expansion," he said, "has helped improved occupancy rate that has risen from 20 to 50 per cent".
Addressing the car park problem, which was among the complaints of past tenants, the parking lot has been "optimally designed to house better safety features along with the instalment of new machines" and "better access points for easy entry".
Another interesting aspect to the refurbished building will come in the form of a banquet hall situated on the top floor of the building, which will have the capacity to host large scale events such as meetings, seminars, conferences and weddings with a 160 degree view of picturesque Kg Ayer.
After 60 years of this "win-win solution" regarded by both parties, the building will be returned to PGGMB and the bank has plans to see the returns of its investment, to be shared with the association, over the next six decades.
Courtesy of Borneo Bulletin