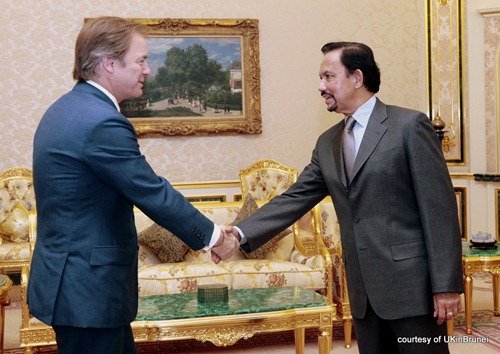 The Minister of State at the Foreign and Commonwealth Office, the Rt Hon Hugo Swire MP visited Brunei from 9 to 10 December. This was Minister Swire's first visit to the ASEAN region since he assumed office as Minister of State in September 2012.
Brunei was the first stop on his South East Asia tour.  The Minister will now go onto visit the Philippines and Burma.
His Majesty the Sultan and Yang Di-Pertuan of Negara Brunei Darussalam graciously consented to receive Minister Swire in audience. Minister Swire also met His Royal Highness Prince Mohamed Bolkiah, Minister of Foreign Affairs and Trade; as well as Foreign Minister II, Pehin Lim, and senior officials at that Ministry. Mr Swire also has an appointment with the Deputy Minister of Defence. Minister Swire wished Brunei well with its upcoming Chairmanship of ASEAN and looked forward to working more closely with Brunei in continuing to strengthen UK-Brunei relations in the traditional areas of trade and investment, defence and education whilst looking to expand in the areas of cooperation between the two countries.
Minister Swire's first public engagement was the signing of a MoU between Oxford University and the Ministry of Industry and Primary Resources (MIPR) on Monday 10 December.  The first project under the MoU will be the Rapid Botanical Survey (RBS).  For the RBS Oxford University will visit the country to examine Brunei's biodiversity and collect data in order to support and further build the MIPR's Brunei Forestry Centre of National Herbarium (BRUN) biodiversity database.  The RBS project will forge a powerful alliance between Oxford, MIPR and scientists at UBD.
At this event Mr Swire delivered his speech on UK education and research collaboration in Brunei, ASEAN and around the world, arguing that the UK's knowledge economy is a natural partner for all ASEAN member states. The Minister is particularly keen to develop further research networks between Britain and Brunei; and to identify British partners for Brunei in the field of technical and vocational education and training.
During his time in Brunei Minister Swire also visited the Brunei Garrison in Seria, Kuala Belait and met with Deputy Minister of Defence Dato Paduka Hj Mustappa Hj Sirat at the Ministry of Defence.
Speaking about his visit Minister Swire said "Throughout my visit I have been received with courtesy for which Brunei Darussalam is justly famous.  The British government ascribes great importance to this dynamic region.  My visit is part of a pattern, which includes VIP visits in both directions.  Britain feels fortunate that one of its oldest friends, Brunei Darussalam, is taking the helm of ASEAN at this important time; and that Brunei contains some of this region's most seasoned statesmen.  I came to listen and learn; and to see the region through their eyes; and I am leaving with a better understanding of the region's priorities."
More at UKinBrunei.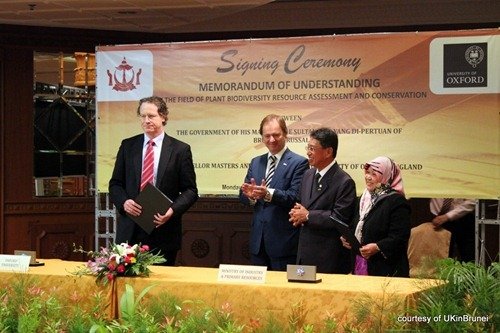 Minister Hugo Swire with YB Pehin Yahya at the signing of
an MoU between MIPR and Oxford University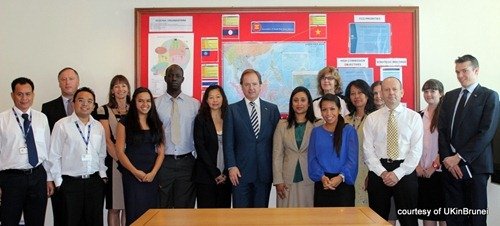 British High Commission staff welcomed Minister Hugo Swire into their workplace!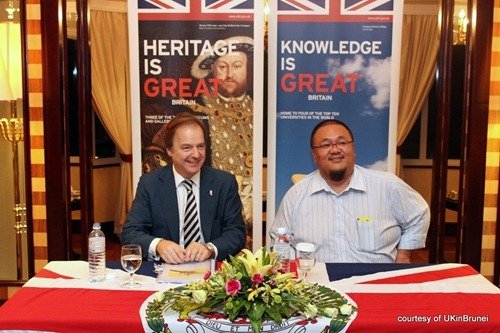 Minister Hugo Swire with Reeda Malik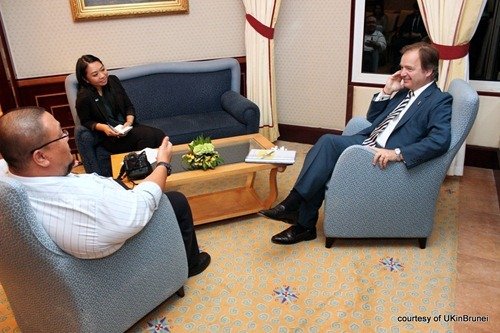 Minister Swire in conversation with Reeda Malik & Rabiatul Kamit (Brunei Times)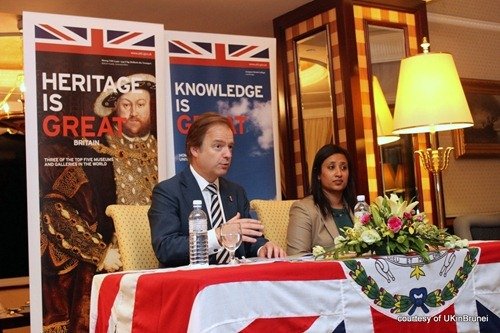 Minister Swire with Acting High Commissioner Sunny Ahmed at the press conference