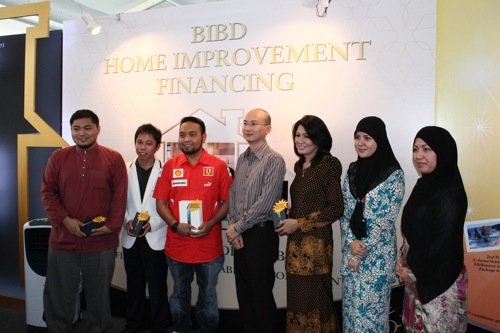 Bank Islam Brunei Darussalam Berhad (BIBD) held a prize presentation ceremony today for its 'Swipe to Win', BIBD Online and BIBD Mobile lucky draw winners. The small ceremony was held during the 11th Consumer Fair at the National Indoor Stadium.
The winners only had to sign up and use the promoted BIBD products and services to be eligible to win these prizes.
Erna Aliza Hj Raya and Dk Hjh Noraini Pg Hj Mohammad were ecstatic when they were announced as the 4th and 5th week winners for the BIBD 'Swipe to Win' campaign. The two very lucky women brought home with them a Samsung Galaxy Note II each.
Three others – Dk Hjh Norayushima bte Pg Hj Yusri, Mohammad Khairul Hazirin bin Haji Ariffin and Muhammad Rizuan bin Haji Lamit – had smiles on their face as each of them were presented with an iPhone 5 for the iPhone 5 promotion.
Meanwhile, Ismat bin Hj Lamat and Azanor bin Haji Ahad were overjoyed, as they each walked home an iPad Mini, for having the highest Department of Electrical Services and DST top-up usage for the month.
Presenting the prizes to all the winners was Ben Lin, Head of Marketing, BIBD. The lucky draw winners were chosen from BIBD customers who have signed up and used the BIBD Mobile or BIBD Online along with the usage of the BIBD Debit Card or BIBD Credit Card at any retail outlet within the promotion period.
The BIBD 'Swipe to Win' campaign will continue on until the 24th of February, carrying along a weekly prize of a Samsung Galaxy Note II for twelve consecutive weeks, along with a final grand prize of 100,000 Royal Skies Miles for one lucky customer. Furthermore, this campaign only requires the BIBD customer to swipe their BIBD Credit or Debit Card at any retail outlet and which will automatically entitle them one ticket for the lucky draw, regardless of the transaction limit.
On the other hand, the BIBD Mobile and Online promotion will be running until the 27th of January, 2013, where each BIBD customer is given one lucky draw entry for each qualified transaction, which will be entered into the upcoming lucky draw, which will be the last one. The grand prizes remain the same for the final edition of the promotion, being three iPhone5s and two iPad Minis.
Related articles