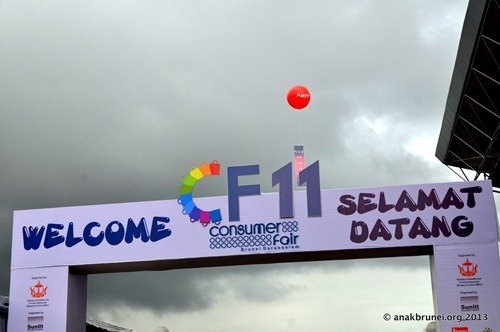 Brunei's biggest and longest-running consumer expo, the Consumer Fair (CF), closed with a high yesterday with thousands of visitors flocking there over the last week to check out the products on offer and to capitalize on the great deals as well. I dropped by over the weekend to check it out and found the venue to be rather worrying from an HSE perspective.
The giant tents put up for the exhibitors felt like they had insufficient ventilation and lighting. The flooring was also quite rickety to the point that the displays at the various booths literally swayed with the movement of people in the tent. I wonder if HSE standards are applied to these temporary structures before they are approved for use, like in the UK for instance which says, among others:
"All parties have a duty of care to both the public and the crews working on site. This includes  the venue owner/operator, the event organiser, the marquee contractor and other contractors working on the same site.
Prior to any event, the tent contractor shall ensure that areas of responsibility for health and safety are clearly defined: those of all parties in the contract chain including the tent contractor, sub-contractors and those of the client and organisers. These will normally be set out in the contract and should preferably be standardised. Sales staff should make clients aware of their safety responsibilities.
It is vital that all structures used by the public are so far as is reasonably practicable, safe, particularly in case of fire or adverse weather, and that procedures are in place to protect the public and staff in these circumstances."
I couldn't agree more when one netizen said, "I don't know why the organiser decided to hold the event at a carpark. It was so… tacky what with all the tents and everything. And the inside of the tent was so dark and stuffy […]. And the plywood floorings were so annoying. They have bumps and such I swear if I were wearing my super high heels, I would trip."