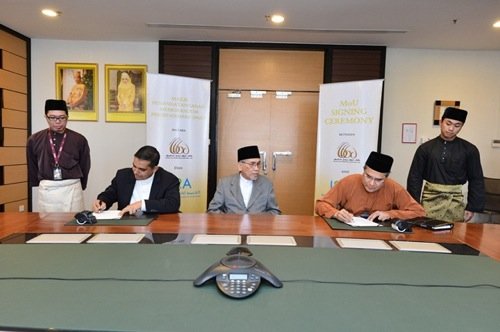 Bank Islam Brunei Darussalam Berhad (BIBD) today signed a Memorandum of Understanding (MoU) with the International Shari'ah Research Academy for Islamic Finance (ISRA) in efforts to boost the capabilities of BIBD to further develop its understanding of Islamic Finance.
Present and signing on behalf BIBD and ISRA were Javed Ahmad, Managing Director of BIBD and Associate Professor Dr. Mohamad Akram Laldin, Executive Director of ISRA. This momentous event was held at the BIBD headquarters building in Bandar Seri Begawan, witnessed by Yang Dimuliakan Pehin Orang Kaya Paduka Setia Raja Dato Paduka Seri Setia Haji Awang Suhaili bin Haji Mohiddin, Deputy State Mufti and Sharia Appeal Court Judge cum Chairman of the Shariah Advisory Body of BIBD, along with the rest of the members of the Shariah Advisory Body. Also present were senior management and officials from BIBD.
The MoU was poised to maintain an open, collaborative and cooperative working relationship in an effort to establish, develop and strengthen Shariah academic exchange particularly in the area of Islamic Banking and Finance. The managing director of BIBD welcomed all the guests and opened the ceremony with a welcoming remark. He said the signing ceremony represents an important milestone for BIBD as it ensures not only world class service delivery, but also the guidance of shariah compliance of BIBD's products and service.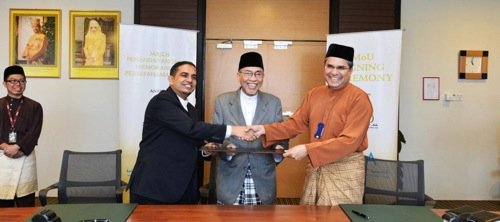 This, along with the full supervision of the Shariah Advisory Body of BIBD, will eventually lead to the roll out of better products and services, ultimately keeping in line with the nation's aims of Negara Zikir, Mr Javed Ahmad shared while further adding that the efforts in place will also push to educate the public on Islamic financial literacy for better general understanding.
The establishment of ISRA is to promote applied research in the area of Shariah and Islamic Finance. It also acts as a repository of knowledge for Shariah views or fatwas and undertake studies on contemporary issues in the Islamic finance industry. ISRA contributes towards strengthening human capital development in the areas of Shariah and provide platform for greater engagement amongst practitioners, scholars, regulators, academicians via research and dialogues, both in the domestic and international environment.
Through pioneering research and rigorous intellectual dialogue, ISRA aims to promote innovation and dynamism into new boundaries of Islamic finance. ISRA is part of the International Centre for Education in Islamic Finance (INCEIF), which enables the academy to leverage on the existing infrastructure and facilities as well as to tap on the knowledge, expertise and resources of the academic faculty and postgraduate students in INCEIF. A council of Scholars, comprising eminent local and international Shariah scholars has been set up to provide input and assistance in the strategic direction of ISRA's research works'.
In the field of publications, ISRA has so far published numerous books, research papers and journals, publishing some in Arabic, along with a bulletin that is published three times a year.