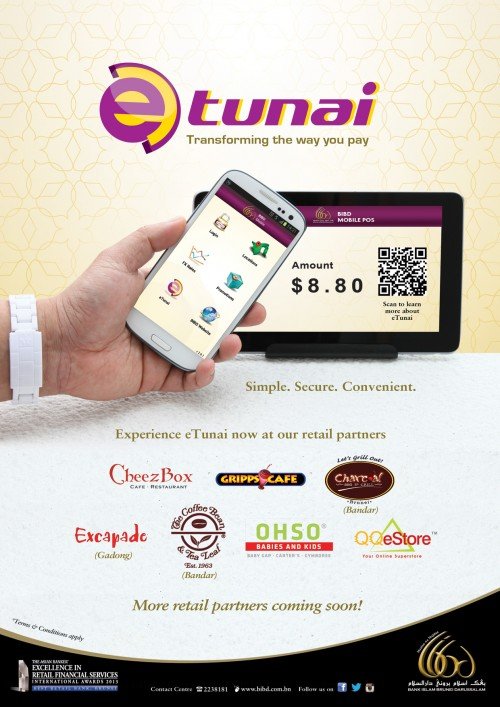 Looking set to revolutionise the local banking industry, Bank Islam Brunei Darussalam (BIBD) customers can now make payments by the 'scan and go' method using their smartphones with selected merchants nationwide. This is made possible after the launching of a pioneering mobile payment service platform yesterday called the 'eTunai' that eliminates the use of physical cash and cards.
Offered under BIBD Mobile or BIBD online, the service, which is the first of its kind in the country, provides free-of-charge service and allows customers to use their smartphones to purchase goods without physical cash or cards. The payment amount will be deducted directly from their BIBD's account.
Currently, there are only a limited number of participating merchants for the 'eTunai' namely Excapade Gadong, Charcoal BBQ and Grill (Bandar), Cheezbox, Gripps Cafe, QQestore and Ohso.
More merchants are expected to jump on the 'eTunai' bandwagon in the near future.
A briefing on 'eTunai' was delivered by Gyorgy Ladics, the Chief Operating Officer of BIBD, and Awang Hj Minorhadi bin Hj Mirhassan, the Head of Institutional Banking of BIBD, and Awang Zainol Amin Jaafar, the Cards and Mobile Customers Management, E-Banking Channel.
According to Awang Zainol Amin Jaafar, after customers register and activate their 'eTunai' service on BIBD mobile or BIBD online, they would only need a working Internet connection via 3G or Wi-Fi to make payments.
The camera screen of the smartphone will be activated for the customer to scan the QR code on the merchant tablet. After scanning, customers will then be required to select their mode of payment by either selecting their CASA account or Hadiah Point. This means that BIBD account holders can utilise their accumulated 'Hadiah Plus Points' instead of their account for payments. This makes it much easier for customers to redeem their points.
Gyorgy Ladics added, "Without the use of paper receipts, 'eTunai' eliminates the use of papers and ink which is good in preserving the environment while the electronic recipients can be retrieved anytime by phone or through e-mail."
The convenient mode of payment, according to Awang Hj Minorhadi bin Hj Mirhassan, is beneficial for customers of BIBD and SMEs. It provides ease of payment for SMEs and corporate customers.
On security, Awang Zainol Amin Jaafar said that there is always a screen lock password on the smartphone and that customers would have to enter their Internet pin numbers to access the service. If the smartphone is missing, customers can still retrieve the history of their payments through the bank's database. "The data is not stored inside the phone," he said.
According to statistics provided by BIBD, following the launch of BIBD online at the end of last year, some 20,000 customers have utilising the online or mobile banking services. In addition, some 17,000 customers have downloaded the BIBD apps within six months. There have been more than 30,000 transactions per month done online.
With the immerse growth, Mr Gyorgy Ladics hoped that more customers would join BIBD.
"Transferring funds and making payments are just a few key strokes in mobile banking. We feel that the younger generation will be looking at BIBD as their first choice with BIBD online or mobile," he said.
Touching on the mobile banking industry, Gyorgy Ladics said he is optimistic on the growth of the market.
Noting that some 17,000 customers have downloaaded the BIBD apps in just six months, he said that it would not be surprising to see this number jump to around 50,000 in the coming years.
"There is no cost associated with the service and most people have the device of smartphones so they can simply download the apps," he said.
BIBD is committed to bring about smart, convenient and innovative products and payment methods to assist customers in the changing lifestyle.
For more information, visit any BIBD branch or log on to www.bibd.com.bn.
Related articles