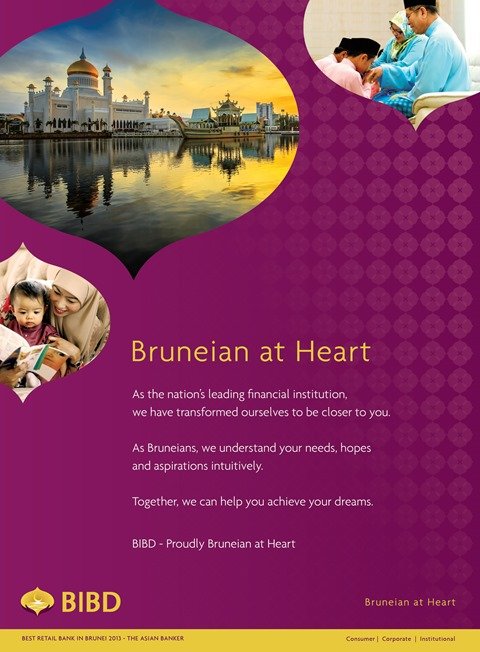 BANK Islam Brunei Darussalam Berhad (BIBD) yesterday launched a new banking experience and the rebranding of its corporate image which incorporates unique Bruneian values that signifies the Sultanate's sovereignty and Islamic canvas.
His Royal Highness Prince Hj Al-Muhtadee Billah, the Deputy Sultan officiated at the launching ceremony which took place at the bank's Kiulap Branch at Setia Kenangan Complex.
The introduction of the new brand "Bruneian At Heart" is one of the strategic efforts embarked upon under the bank's transformation journey.
The emphasis of "Bruneian At Heart" brings out BIBD's commitment to Bruneian aspirations and values, as well as its roots in Brunei and Islamic values.
The branch features a more refreshed ambience, a service focus and an enhanced banking experience.
"Because we are Bruneian at heart, you know the service that we provide to everyone not only over here but once we are actually international, is going to be very much the core of our philosophy," said the bank's managing director Javed Ahmad.
Speaking at a press conference held following the launching ceremony, he underlined the significance of the new brand for BIBD which is a fusion of four key unique Bruneian elements; the golden dome, the crescent room, the waterways of Brunei and the two hands in supplication which reflects the warm and intuitive relations that the bank has with Bruneians, and its values to the heritage of the nation.
The renovations associated with the rebranding will be applied to all other BIBD branches at least "within a year", according to Consulus, the bank's rebranding project consultant.
In an interview with The Brunei Times on Tuesday, the CEO of the Singapore-based company, Lawrence Chong said that BIBD now carries a "strong sense of Bruneian identity".
According to him, the company "had to pay a lot of attention" to principles such as the Wawasan 2035 and the Malay Islamic Monarchy (MIB) concept in order to stay true to BIBD's identity as a Bruneianbank.
"The bank has a uniquely Bruneian design with a sense of modernity but not forgetting other values such as the family," he said.
"Eventually this concept will be applied to the other branches. For now, the branches will go through a facelift for the logo."
While BIBD's transformation in terms of marketing, design and concept was orchestrated by Consulus, areas such as service and back office training are being done by other consultants.
Upon his arrival, His Royal Highness was greeted by Minister of Industry and Primary Resources cum Chairman of the Board of Directors for BIBD, Yang Berhormat Pehin Orang Kaya Seri Utama Dato SeriSetia Hj Yahya Begawan Mudim Dato Paduka Hj Bakar.
After launching the new banking experience, the Deputy Sultan toured the refurbished branch before ending his programme.
Also attending the event were cabinet ministers, senior government officials, patrons and partners as well as local stakeholders.
The Brunei Times