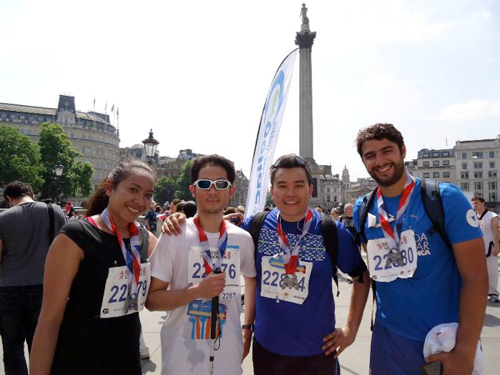 On Sunday 14 July 2013, two Chevening scholars from Brunei, Nor Alizulrainee Ali Yusop and Abdul Matiin Kasim, completed the British 10K London Run. The British 10K London Run took place in the heart of central London with its route passing many of the capital's truly world class historic landmarks.
Starting on Piccadilly outside The Guards & Calvary Club, runners passed the new WW2 Bomber Command Memorial which was unveiled by HM Queen Elizabeth 11 in June 2012, two weeks prior to The British 10k London Run in Diamond Jubilee Olympic year with Wellington Arch at Hyde Park Corner as backdrop.
Runners also passed The Ritz, St. James's Palace, Trafalgar Square, the magnificent St. Paul's Cathedral, the unique London Eye, the world's most famous clock Big Ben, the British Houses of Parliament, the historic Westminster Abbey before finishing on Whitehall (the portal of British Government) at the junction of Royal Horse Guards and Banqueting House after passing Downing Street  (the official London residence of British Prime Ministers) and The Cenotaph, the national memorial to those who made the ultimate sacrifice for their country.
Nor Ali and Matiin ran the British 10K, alongside two other Chevening scholars Ruth Garnet Maran and Francisco Borquez Electorat, for a charity called 'SOS Children: Sponsor a Child', a UK based charity aimed at looking after and caring for children who have lost their parents through war, famine, disease or poverty.
Nor Ali said, "Participating in the British 10K London Run was truly an amazing experience! As an avid marathon runner myself, I feel blessed to be a part of this prestigious event, as well as fortunate to be able to run for the very first time across one of the world's greatest route through the heart of the City of Westminster and the City of London.
Despite the summer heat and the challenge of running alongside 30,000 runners, it still felt great knowing that we were raising funds for the benefit of SOS Children together in a team. It really made it a worthwhile experience for me and for three other Chevening scholars. I'm definitely going to cherish these moments, and I'm glad that I was able to use my time here to help SOS Children make a bigger difference in the lives of underprivileged children under their care."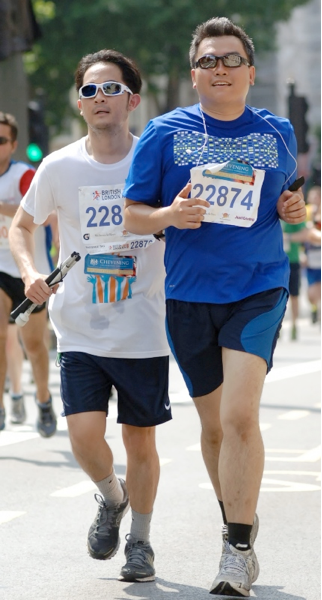 Matiin said, "'The British 10K experience was rewarding and exhilarating! The run is a popular summer event held in the beautiful city of London. Our Chevening team was lucky enough to be a part of this and why I say this is rewarding for me is because it gave me the chance to be run for a charitable cause: the SOS Children Charity which supports  children in need through education and improving their livelihoods. I ran alongside my fellow Chevening scholar, Norali, and two other Chevening scholars. We started our run at the Wellington Arch, passed the Piccadilly area, along the Embankment and River Thames overlooking the London eye and making a u-turn to the Parliament Building and Westminster Abbey to the finishing line! Overall, a great running experience with glimpses of the stunning London monuments and landmarks along the way."