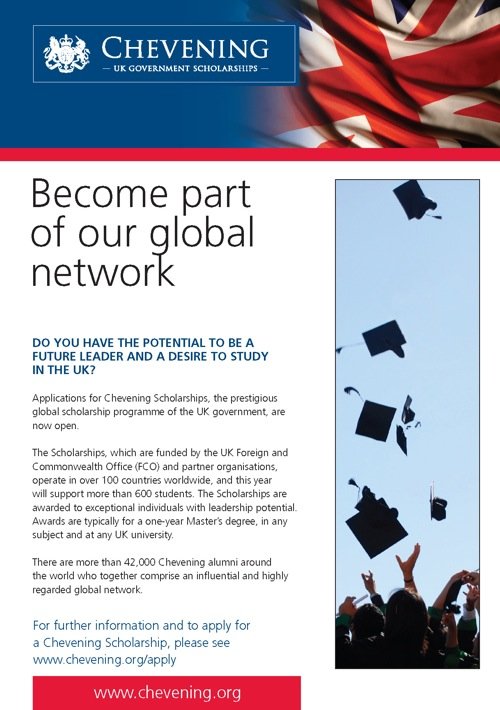 Chevening Scholarships are the UK government's global scholarship programme, funded by the Foreign and Commonwealth Office (FCO) and partner organisations. The Scholarships offer the opportunity to study for a one-year Master's degree at any of the UK's leading universities, and are awarded to outstanding established or emerging leaders across a wide range of fields including politics, government, business, the media, the environment, civil society, religion, and academia.
The programme provides a unique opportunity for leaders of the future to build a global network of continuing professional significance and also to establish social, cultural, academic or commercial partnerships with the UK.
Chevening Scholars come from 118 countries worldwide (excluding the USA and the EU), and this year the Scholarships will support over 600 individuals. There are over 42,000 Chevening alumni around the world who together comprise an influential and highly regarded global network.
There are currently 44 Bruneian Chevening Alumni including yours truly. Last year there were two Chevening Scholars from Brunei, namely Nor Alizulrainee Ali Yusop and Abdul Matiin Hj Muhammad Kassim, and this year we will be sending one Chevening Scholar, Nurliyana Fatin Arifin to study at King's College London. Here's my Chevening experience.
Applications for Chevening Scholarships must be submitted online at www.chevening.org. Applicants should read the online guidance and demonstrate how they meet the Chevening selection criteria before submitting an application. Further details of priority subject areas for Brunei are available on the Brunei country page at www.chevening.org/brunei. The closing date for applications is Friday 15 November 2013.