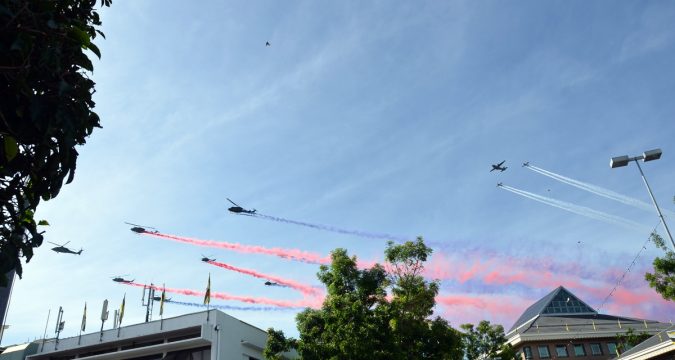 The 67th birthday celebrations of His Majesty the Sultan and Yang Di-Pertuan of Brunei Darussalam began with a grand parade at Taman Haji Sir Muda Omar 'Ali Saifuddien in the heart of the capital yesterday.
Hundreds of students from various schools were seen early morning enthusiastically waving mini national flags lined up to welcome His Majesty and other members of the royal family, further enlivening the event with a great display of patriotism and love for the monarch.
In attendance to celebrate the joyous event at the Taman were His Royal Highness Prince Haji AI-Muhtadee Billah the Crown Prince and Senior Minister at the Prime Minister's Office, His Royal Highness Prince Mohamed Bolkiah, His Royal Highness Prince Haji Sufri Bolkiah, and His Royal Highness Prince Haji Jefri Bolkiah.
Upon arrival, His Majesty was greeted with the Royal Salute followed by Brunei's National Anthem and the firing of canons to mark the beginning of His Majesty's 67th birthday celebrations at the Taman.
His Majesty later consented to inspect the Royal Guard of Honour that was mounted by personnel of the Royal Brunei Land Force, Royal Brunei Navy, Royal Brunei Air Force, Royal Brunei Police Force, including members of uniformed government departments and associations.
The march past that followed after the inspection of the Royal Guard of Honour showed great patriotism as His Majesty, other royal family members, invited guests and the public that crowded outside the gates of the Taman watched in awe. The Royal Brunei Armed Forces and Royal Brunei Police Force personnel marched in simultaneous movement.
Concluding the morning's events at the Taman was a colourful fly-past, a very fitting grand finale that included a number of aircraft from the Royal Brunei Air Force such as the Black Hawk, PC-17, Bell Helicopters, headed by the CN-235, leaving trails of colourful smoke in the air behind them.
Courtesy of Borneo Bulletin