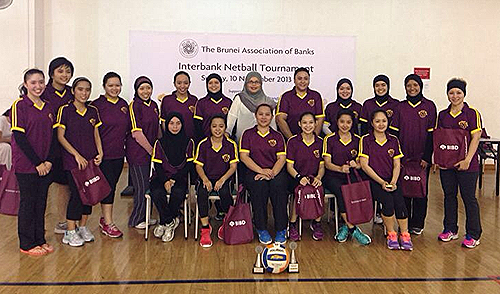 On Sunday, 10th November 2013, BIBD Team A emerged as champions of the Brunei Association of Banks ("BAB") annual Inter-bank Netball Tournament, which was organised by the BIBD Netball Club. The BIBD Team A successfully defended their title which they also won last year.
A total of five teams participated consisting of two teams from BIBD (Team A and B), and one each from Standard Chartered Bank, Baiduri and TAIB. SCB came in 2nd place, whilst 3rd place went to BIBD Team B.  
The guest of honor at the event, Hjh Nurul Akmar binti Haji Mohd Jaafar, BIBD Deputy Head of Consumer Banking Division who is also Head of the BIBD Netball Club, handed over the prizes to all the winners. 
This yearly event, held at the Dar Takaful Building in the Capital, was organised to promote and foster better relationship between the banks in Brunei Darussalam.