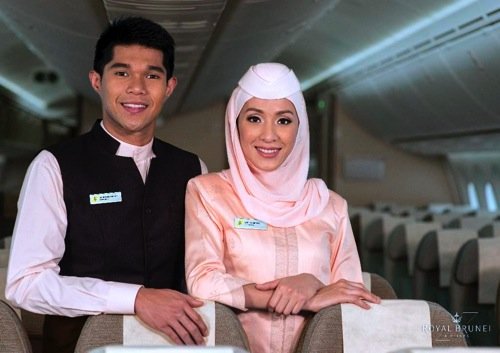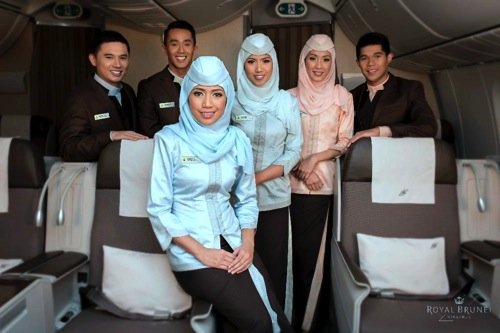 ROYAL Brunei Airlines (RB) yesterday unveiled new "heritage-inspired" uniforms for its cabin crew, as the latest phase of the national carrier's re-branding programme.
The uniforms incorporated songket patterns for the female crew and Malay-style shirts for the males, among other features that reflected the re-branding programme's aim "to share the unique culture of Brunei with the world".
"Our re-designed uniforms reflect tradition, while evoking a modern simplicity," said RB Deputy Chairman Dermot Mannion in his speech during the unveiling ceremony yesterday at the Empire Hotel and Country Club.
Mannion said that the new uniforms were in line with this year's national day theme "Generation with a Vision" and were part of the company's contribution in promoting Brunei.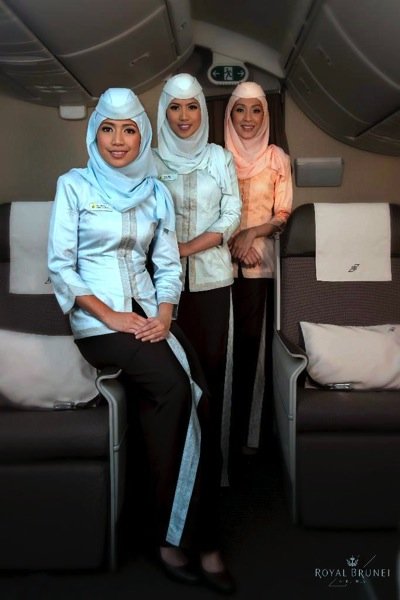 A RB statement said that new blouses for the female crew have been "tastefully detailed" with traditional songket patterns along the hem, trim and back. Colours will range from "coral dust to morning sky to fresh mint, based on the seniority of the crew".
"This warm spectrum of colours has been designed to reflect the friendly and welcoming nature of the new RB brand," the statement said. Matching traditional headscarves and flowing chestnut brown skirts completed the updated ensemble.
Male crew members will be wearing three-piece suits in matching brown, with a similar spectrum of Malay-inspired shirts and traditional standing collars.
Minister of Communications Yang Berhormat Pehin Orang Kaya Hamzah Pahlawan Dato Seri Setia Hj Abdullah Begawan Mudim Dato Paduka Hj Bakar, RB's Chairman Dato Paduka Hj Bahrin Hj Abdullah, members of RB's Board of Directors, senior officials from the Ministry of Communications and Brunei's Department of Civil Aviation were present to view the new uniforms during yesterday's unveiling.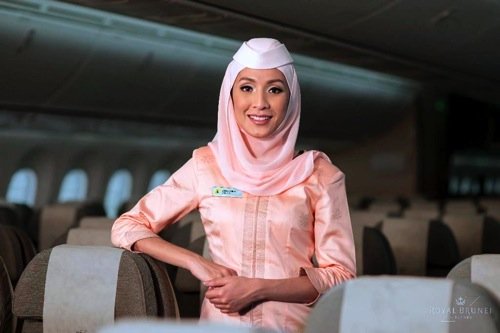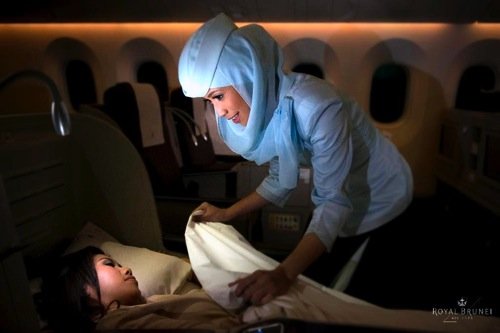 "RB is very proud that most of this project has been developed, implemented and completed in Brunei. Much of the design work was completed internally to ensure the new ensemble reflects Bruneian tradition," the statement said.
The fabrics were selected and tailored by Brunei-based Khazanah Lady House, with matching shoes from BATA Brunei.
Passengers will get their first onboard sight of the new uniform in early April, to coincide with the launch of Boeing Dreamliner services to Melbourne.
In the meantime, citizens and visitors to Brunei will get a sneak preview this Sunday, when a number of RB cabin crew members will wear the new uniform in the parade during the 30th National Day celebrations. – Sally Piri
The Brunei Times