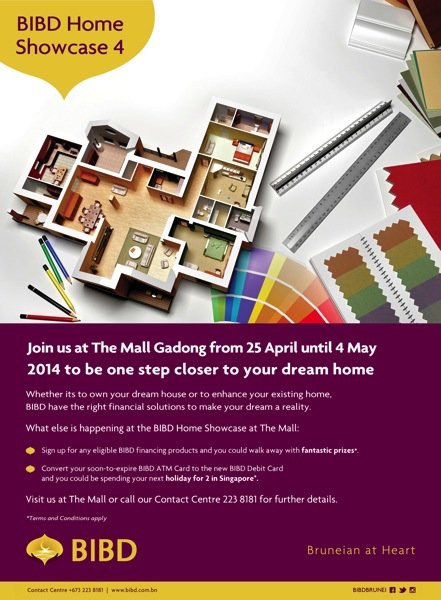 The amazing and attractive opportunities only available at the BIBD Home Showcase at The Mall, Gadong, is now in its last three days, open daily from 10am to 10pm; except for Fridays from 2pm to 10pm.
BIBD is offering home improvement structural renovation financing packages that are specifically designed for the National Housing Scheme.
The packages were developed with a reputable contractor whom is registered with the Ministry of Development; and includes pre-approved house-plans, affordable and ready to move-in package, an affordable monthly repayment scheme; and Takaful coverage for the financing.
The basic Package A starts at $15,000.00, Package B at $30,000 and Package C at $50,000.00; which include ground floor tiling, tiles or laminated flooring for the first floor, conversion, refurbishment or extension of the existing kitchen, and built-in wardrobes for all three bedrooms. Meanwhile the more extensive packages, B and C, offer a bigger square feet space, an extra bedroom, first floor extensions, and a corridor, which will also entitle customer to a complimentary air conditioner or water pump from BIBD.
The Home Showcase represents the last chance for the public to gain the benefits on offer such as waivers off financing fees of up to 100% for home improvement financing and also 50% for home financing. An opportunity to win lucky draw prizes for all financing applicants such as Samsung Galaxy Tabs, iPad Air, CBTL coffee machines, $20 vouchers, power-banks, and BIBD corporate gifts.
Also on offer is the BIBD Debit Card conversion promotion, which includes new debit card applications and conversions of existing BIBD ATM cards that will automatically entitles applicants and converter to receive 1,000 BIBD Hadiah Points into their account.
BIBD Customer will also receive free daily coffee provided by The Coffee Bean & Tea Leaf (CBTL), who is also offering 30% off their CBTL coffee machines when purchased by card. BIBD cardholders will also be entitled to a discount on Haagen Dazs ice cream of $3 instead of the standard $5 price.