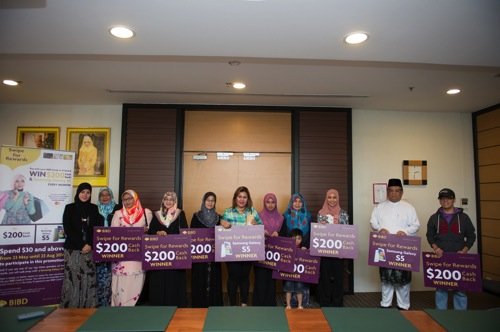 BIBD today presented prizes for its first "Swipe for Rewards" monthly winners at the BIBD headquarters in the capital. The prizes were handed out to winners in the lucky draw and highest spender category.
On hand to present the prizes was Caitlina bti Hj Haliluddin, BIBD marketing officer, who handed over cash prizes of BND200 to ten monthly lucky draw winners. Also during the event, Norli Binti Haji Samat, BIBD's Perdana Privilege Banking officer, presented three Samsung Galaxy S5 mobile phones to the three highest spenders during the first month of the "Swipe for Rewards" campaign.
The monthly promotional campaign is open to all BIBD cardholders and eTunai users and will be running until the 23rd of August 2014. BIBD cardholders and eTunai users only need to make a single retail transaction of over B$30 to be entered into both categories.
There is no limit to how many transactions that can be made for eligibility, making your chances for winning higher every time you swipe. All approved transactions will be automatically enrolled in the campaign draw, reducing the hassle for the user to needlessly enter any forms.
For those of you who do not currently own any BIBD cards, now would be the perfect time to apply as BIBD is offering all new BIBD Debit Card applicants who have converted from the old BIBD ATM Card, 1,000 Hadiah Points after their first retail purchase, a promotion that ends on the 31st of December 2014.
Accumulated Hadiah Points can later on be used to purchase frequent flyer miles from RB and AirAsia, donate to charitable organisations, make payments at any participating eTunai merchant, pay utility bills and so on.
BIBD would like to take this opportunity to remind the public that its current BIBD ATM Card will expire on 31st August 2014, hence all current BIBD ATM cardholders are encouraged to switch to the new BIBD Debit Card.
Dubbed "Smarter than Cash", the BIBD Debit Card is the only Shariah compliant debit card type in Brunei, and is open to any customer aged 18 and above and has an active Current or Savings account with the bank.
The BIBD Debit Card allows BIBD customers to pay for their purchases at over 25 million online and physical outlets along with access to cash from their accounts at over one million ATMs worldwide, wherever the MasterCard or Cirrus logo is displayed.
The BIBD Debit Card gives its cardholders the ultimate in peace of mind as it is the only debit card in Brunei that does not require cardholders to pay an annual fee. Also, no bills will be sent to you at the end of the month as all payments and purchases will have been directly debited from your account, eliminating any chance of accumulating debt.
To further provide its users with serenity, the BIBD Debit Card has several enhanced security features on top of its PIN number which includes an embedded EMV chip providing maximum levels of encryption to prevent misuse. Furthermore, a sophisticated fraud early warning system detects any irregularity in transaction patterns which results in the cardholder being notified immediately.
On top of that, all cards are provided with the BIBD SMS Alert that allows for instant notifications of any purchases using any of BIBD Cards. This would prove useful should there be any unauthorized use of the BIBD Debit Card. BIBD also uses the 3D Secure Service provided by Mastercard for online transactions, allowing the user to authenticate their own identity via a code, different for every transaction, instantly sent to their own personal mobile phone.
On the other hand, the BIBD eTunai is BIBD's e-wallet or mobile internet payment service platform where users can opt to pay for their bills at selected eTunai merchants via their mobile phones or tablets. Using BIBD's eTunai will also enable the user to choose either to pay directly from their account, instantly use their accumulated Hadiah Points, or a mixture of both should their Hadiah Points be deemed insufficient, or with their credit card. It is another hassle-free and safe payment solution provided by BIBD where all your payment solutions are all rolled into one service.
For more information on any of BIBD's other products or services, please log on to the BIBD website at www.bibd.com.bn, visit your nearest BIBD branch or get in touch with the BIBD Contact Centre at 2238181.